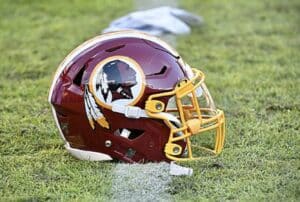 By Hannah Claire Brimelow
The Washington Football Team will not become the Warriors despite fans' speculations.
Team President Jason Wright issued a statement Monday saying:
"I want to address a name that has emerged amongst our fanbase, "Warriors." One might look at this name as a natural, and even harmless transition considering that it does not necessarily or specifically carry a negative connotation. But as we learned through our research and engagement with various groups, 'context matters' and that makes it a 'slippery slope.' Feedback from across communities we engaged clearly revealed deep-seated discomfort around Warriors, with the clear acknowledgment that it too closely aligns with Native American themes."
Wright emphasized the organizations decision to "prioritize the views of those who have been hurt by our historical use of Native American language, iconography and imagery" during the rebranding.
The team was known as the Washington Redskins for over 80 years.
Owner Dan Synder infamously told USA Today in 2013 "We'll never change the name. It's that simple. NEVER — you can use caps."
Then, in the summer of 2020, after George Floyd's death and the cross-country riots that followed, the slow-boiling debate regarding the football team's name sudden took on a new life.
On July 1 of last year, "investors worth over $620 billion sent letters to Nike, Pepsi and FedEx calling for the end of their sponsorships of the team," says Sporting News. Days later "FedEx, which holds naming rights to the franchise's stadium, formally [asked] the Redskins to change their name. Nike, meanwhile, [pulled] Washington gear from its website."
This was the first time in the name's controversial history that financial threats had been used against the team. Under this pressure, the team agreed to review its name.
Tomorrow, July 13, marks the one-year anniversary of the team's announcement that it would discontinue the use of the moniker Redskins as well as any images or logos associated with that brand.
At the start of July 2021,  WUSA9 reported that "the NFL [would] fined the Washington Football Team $10 million" and that Synder would be "stepping away from day-to-day operations for several months after an independent investigation found the organization's workplace 'highly unprofessional,' especially for women."
The team's current leadership has not indicated what the new name and mascot might be. They will maintain their historic colors, burgundy and gold. An announcement regarding the team's rebranding is expected to come in early 2022.
For corrections, please email [email protected]