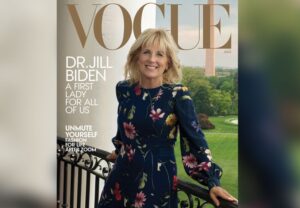 By Hannah Claire Brimelow
Jill Biden has been warmly welcomed and presented by one of the most infamous fashion magazines.
Emboldened with headline "A First Lady for Us All", the August copy of Vogue features President Joe Biden's wife, Jill. The blonde, college professor was photographed by Annie Leibovitz and interviewed by Jonathan Van Meter. It glowingly details her time on the road, meeting college students,  and describing the current First Lady as "constitutionally shy" and "joy multiplier."
Van Meter writes "'Oh, please, call me Jill,' she will say to people in formal settings who sometimes stumble over how to address her. 'Sit down,' she says, laughing, when people stand for a second too long in her presence."
Between the praise of her connection to her students and her efforts to restart Michelle Obama's Joining Forces Initiative, the magazine adoration of Jill Biden is strong and undeniable.
Many will remember that Melania Trump, wife of President Donald Trump, was not featured on the cover of Vogue.
"Vogue's reporting leans sharply to the left, and its editor-in-chief Anna Wintour is a longtime Democratic booster. In 2015, she teamed up with Harvey Weinstein to throw a lavish fundraiser for Hillary Clinton," Fox News notes. "Vogue of course has a long history of featuring first ladies in the fashion magazine, every First Lady going back to Lou Hoover, with the except of Bess Truman and Melania Trump, who were not featured in the magazine"
Reportedly, Melania Trump's office was reportedly contacted by Vogue in the early months of her husband's presidency.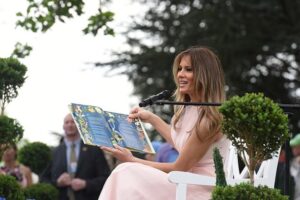 "Vogue reached out to Melania, hoping to schedule an Annie Leibovitz photo shoot of the First Lady in the White House, with writer Rob Haskell shadowing her for a few days to write a profile. All that sounded great, but the magazine could not guarantee that Melania would appear on the cover," Stephanie Winston Wolkoff, a former friend of Mrs. Trump and a veteran staffer for the magazine, wrote in her tell-all book. The then-First Lady is said to have declined this indefinite deal. 
A successful model, Melania Trump previously appeared on the cover of Vogue. In January of 2005, she was featured in her wedding dress. 
"The white satin Christian Dior gown was made from 300 feet of material and embroidered with 1,500 crystal rhinestones and pearls. Estimated to have cost in the region of $100,000, it was thought to be one of the most expensive wedding dresses ever made" the magazine reported.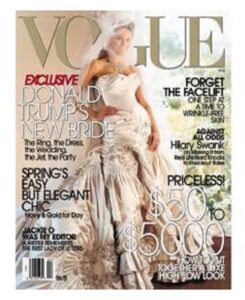 Mrs. Biden's cover does follow that of the other lady in President Biden's life. Vice President Kamala Harris was on the cover of the magazine's January issue. 
For corrections, please email [email protected]