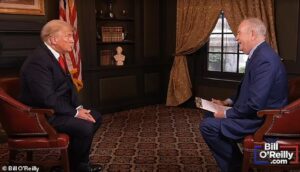 By Cassandra Fairbanks
Former President Donald Trump has announced that he will sit for a deposition in his lawsuit against Big Tech companies.
Trump also said that he is prepared for a "war."
Trump made the comments during an interview with Bill O'Reilly on Wednesday, while discussing his class action lawsuits against Twitter, Facebook and Google over his bans from the platforms.
"You gonna sit for a deposition?" O'Reilly asked during the interview on his "No Spin News" platform.
"Sure. I mean, I look forward to it actually," Trump replied. "I love talking about the election fraud because it was the most fraudulent election – well, I think we've had a lot of them frankly – but the most fraudulent election in the history of our country."
"Are your lawyers prepared, though, for the war? There will be a war. You know that. Are they prepared for it?" O'Reilly asked.
"Everything is a war. With me, life is a war. Yeah, we're prepared and somebody had to do it," Trump replied, adding that "everybody's wanted" him to sue the tech giants. "They're bad, they're bad people," he added.
Trump announced the lawsuits on Wednesday, saying in a statement that "we're asking the U.S. District Court for the Southern District of Florida to order an immediate halt to social media companies' illegal, shameful censorship of the American people.
"They're doing bad things and they're really hurting our nation and maybe in the process of destroying our nation," he said. "We're not going to let that happen."
"We're going to hold Big Tech very accountable," he added.
The Daily Mail notes that "the three are all private companies and users must agree to their terms of service, which legal experts said would make it difficult to argue they were government agents and subject to First Amendment protections on free speech."
"However, Trump and his lawyers say that the platforms have bowed to the wishes of Congress and have been given certain legal immunities, which mean they no longer have all the rights of private companies," the report added, referring to Section 230 which grants them immunity from lawsuits — as long as they are acting as platforms instead of publishers.
For corrections, please email [email protected]