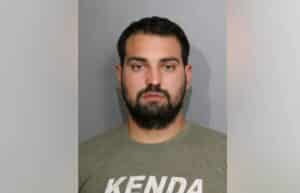 By Hannah Claire Brimelow
The Iowa man who was arrested for having a rifle in his Chicago hotel room proposed to his girlfriend upon his release.
Keegan Casteel was arrested over Independence Day weekend after a hotel staff member reported he has a rifle in his 12th story hotel room. The room at the W Hotel had "a view of Ohio Street Beach and Navy Pier, a major tourist attraction," according to AP News. 
Casteel was charged with two counts of aggravated unlawful use of a weapon. He was interviewed by the Joint Terrorism Task Force and held in custody in lieu of a $10,000 bond. 
The auto-mechanic from Ankeny, Iowa does not have a criminal record. Chicago police said he does not have a valid Firearm Owners Identification (FOID) card which is a legal requirement for the possession or purchase of firearm or ammunition in Illinois.  
According to CBS Chicago, "around 5:45 p.m. Sunday, an employee at the W Chicago Lakeshore hotel, at 644 N. Lake Shore Dr., found a .308-caliber rifle with a high-powered scope and laser sight attachment inside Casteel's room on the 12th floor of the hotel. The worker also found a handgun and several magazines of ammunition." 
Mayor Lori Lightfoot praised the cleaning staff member who reported Casteel.  
"I want to thank the hotel worker who spotted this individual from Iowa who decided it was a good idea to come to our city with an arsenal, an AR-15, and five loaded magazines which he had perched up on the windowsill. Thank God for that hotel worker, who saw something, and said something, and I believe averted disaster," she said. 
During the weekend of Casteel's arrest, "more than 100 people were shot and 19 killed over the Fourth of July weekend in Chicago" reports Fox News. 
Upon his release from the 18th District police headquarters in Chicago on July 7, Casteel was filmed proposing to his girlfriend, who was waiting for him. 
For corrections, please email [email protected]