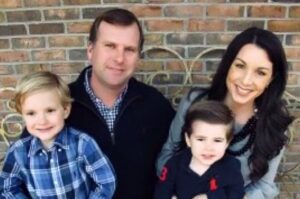 By Hannah Claire Brimelow
The bodies of golf pro Gene Siller and two other men were found at a country club near Atlanta over the weekend.
On July 3rd, police responded to a call saying that shots had been fired at the Pinetree Country Club around 2:20 pm. Siller was the facilities' director of golf.
Siller's body was found on the green near the 10th hole with a suspected gunshot wound to the head, the Cobb County police said in a statement. The father of two was pronounced dead at the scene.
"A white Dodge Ram 3500 pick-up truck belonging to Paul Pierson, was also located on the green. After further investigation, two other men, one being Pierson, were discovered in the bed of the pick-up truck, both shot to death. The other man has not yet been identified but is believed to be of a Hispanic race," CBS46 reported on July 4th. 
Police believe the assailant drove on the golf course from a nearby neighborhood and began shooting. He has been described as a Hispanic male, 6-foot-1, with long hair, and was wearing a white or tan shirt with dark colored work pants at the time of the shooting. No motive or explanation has been released at this time. Witnesses claim Siller was shot when he went on to the course to investigate. 
"We are still in the preliminary stages of the investigation and will provide additional details as they are received," Cobb County Officer Shenise Barner told The Atlanta Journal-Constitution.
According to NBC New York, "the country club is near the campus of Kennesaw State University. After the shooting, the school tweeted that there were no credible threats to campus, which is about 25 miles northwest of downtown Atlanta."
As of Monday, the suspect was still at large. Authorities say he should be considered armed and dangerous. 
For corrections, please email [email protected]