The Kremlin has announced it will annex four occupied territories that Russian troops control, formally securing claims to the areas, in a move already inflaming regional tensions.
After Russia suffered major military setbacks this month, President Vladimir Putin is doubling down by attempting to seize roughly 15 percent of Ukrainian territory.
Moscow's annexation follows claims by Russia that a Sept. 27 vote by local residents in the contested regions showed overwhelming support to become part of Russia.
The election — which has been declared illegal by the United Nations (UN) — was administered by armed Russian troops who went door-to-door to collect ballots during the first three days of voting. Russian news agency Tass reported that in-person voting at polling stations was not permitted until the final day of voting "in the interests of security."
"We will never accept any annexation of territory and land-grabbing by Russia," European Commission spokeswoman Dana Spinant said. "We are ready to make the Kremlin pay a hefty price for this new escalation in the conflict."
Washington and the European Union reject the election outcome, oppose Moscow's annexation plan, and are planning to impose new sanctions on Russia. Serbia and Kazakhstan, two of Russia's close allies, have stated they will not recognize the annexation, according to Reuters.
"It's absolutely unacceptable," said Czech Foreign Minister Jan Lipavsky. "We reject such one-sided annexation based on a fully falsified process with no legitimacy."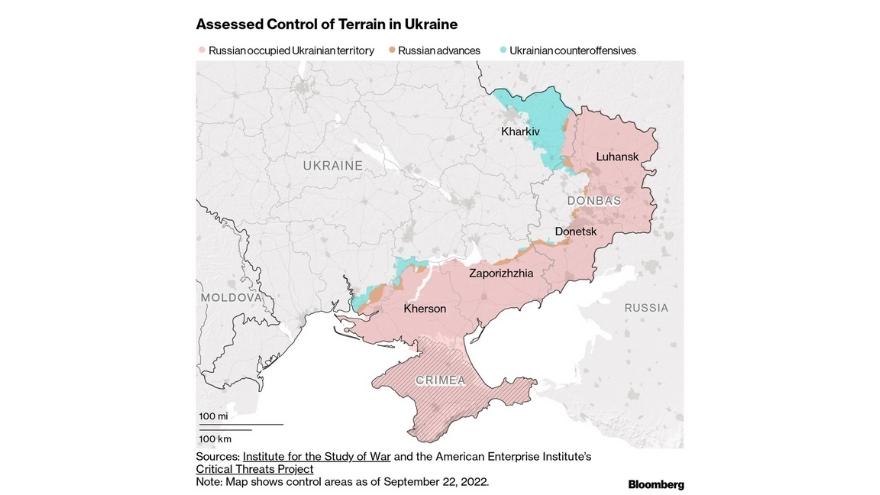 On Sept. 30, Putin is expected to formally annex the regions of Donetsk, Luhansk, Zaporizhzhia, and Kherson during a ceremony where pro-Russian Ukranian officials plan to sign treaties to become part of Russia.
Some officials in the affected regions praised the election results, calling the referendum a "historic milestone."
Western leaders have denounced Russia and expressed strong objections to the election outcome and annexation plans.
"Under threats and sometimes even (at) gunpoint, people are being taken out of their homes or workplaces to vote in glass ballot boxes," German Foreign Minister Annalena Baerbock told reporters.
"This is the opposite of free and fair elections," she said. "And this is the opposite of peace. It's dictated peace. As long as this Russian diktat prevails in the occupied territories of Ukraine, no citizen is safe. No citizen is free."