Rep. Nancy Mace has sent a letter to Dr. Anthony Fauci demanding more information about the South Carolina island where the National Institute of Allergy and Infectious Diseases is housing and breeding monkeys to be used in painful experiments.
As Timcast previously reported, Dr. Anthony Fauci and the National Institutes of Health are using an island off the coast of South Carolina to breed monkeys for use in horrific "maximum pain" animal experimentation.
Approximately 600 monkeys are taken from Morgan Island per year to be used for their research.
In a letter to Fauci sent on Tuesday, Mace wrote "I am deeply disturbed to learn about the housing of monkeys for testing purposes on Morgan Island in my district. This is especially troubling on the heels of revelations about NIAID's involvement in cruel and outdated testing on dogs that I contacted you about last month."
"According to federal documents and media reports, over 3,500 monkeys currently live on Morgan Island and up to 600 each year are removed from the island for use in cruel taxpayer funded experiments by NIAID, which spends millions of tax dollars annually to maintain the colony," the letter continued. "Apparently, many of these experiments—which have been criticized by doctors and scientists—involve infecting the primates with debilitating and painful diseases and withholding pain relief."
Mace went on to request more information from Fauci and asked that it be provided by December 20.
Among the information Mace is seeking is an explanation of NIAID's involvement in operating and maintaining Morgan Island, the number of monkeys transported from Morgan Island to NIAID labs since January 1, 2020, a complete accounting of all experiments performed on monkeys from Morgan Island by NIAID since January 1, 2020, and the amount of taxpayer money NIAID spent to conduct and fund experiments on monkeys in FY20 and FY21.
"The Department of Veterans Affairs is currently working to phase-out its use of primates, dogs and cats by the end of 2025. What efforts, if any, is NIAID engaged in to seek alternatives to testing on dogs, cats and primates specifically?" Mace concluded.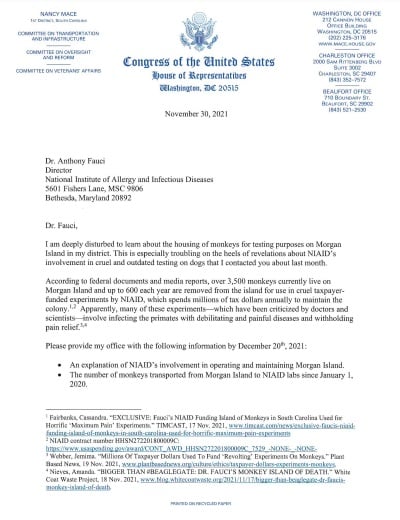 "The Island of Dr. Fauci is not science fiction, but a real-life nightmare for taxpayers and primates, who are bred to die excruciating deaths in wasteful maximum pain experiments that cause hemorrhaging, brain damage, bleeding and multi-organ failure. We applaud Rep. Nancy Mace for demanding answers about Fauci's wasteful monkey business that most taxpayers oppose and want to stop," Justin Goodman, vice president of advocacy and public policy at taxpayer watchdog White Coat Waste Project said in a statement to Timcast.
The island has been managed for the National Institute of Allergy and Infectious Diseases by Charles River Laboratories, one of the largest suppliers of laboratory animals in the world, since 2007. According to federal spending databases, a total of $13.5 million of a potential $27.5 million contract has been given to Charles River Laboratories to maintain the monkey island colony since March 2018.
A sizable chunk of those funds, $8.9 million, was paid by Dr. Fauci's division (NIAID) of the NIH.
NIAID has confirmed to Timcast that they own the monkeys.
A 2018 NIAID paper describes the development of the deadly Crimean-Congo Hemorrhagic Fever (CCHFV) in monkeys in very graphic detail. White Coat Waste has also provided Timcast with photos of one of the monkeys that was infected with the virus. The horrific photos were originally published as a supplement to the paper.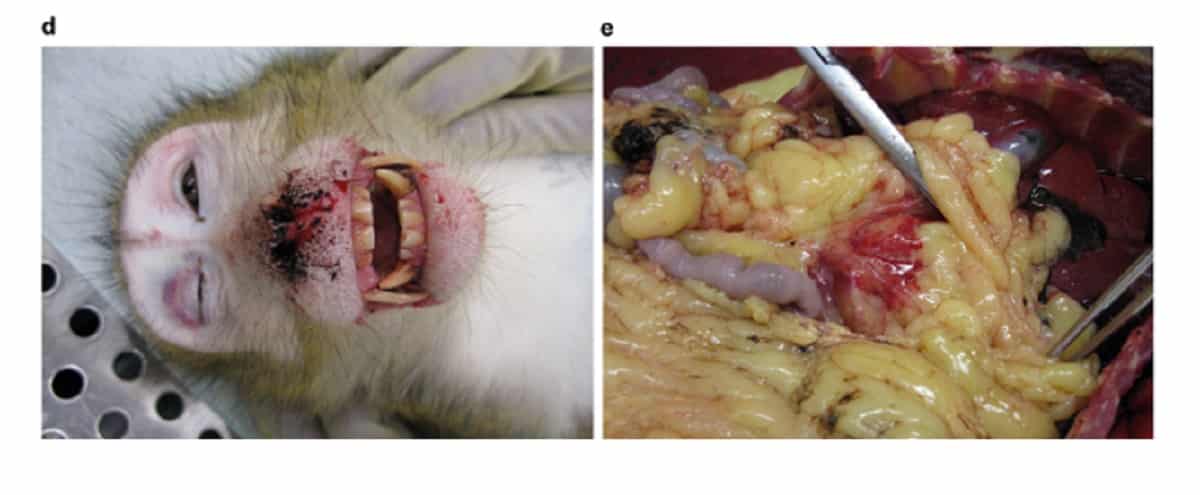 The agency used fifteen rhesus and African green monkeys for the pilot study. They used a dozen macaque monkeys in the main study, where they were injected with the painful virus. They were killed on the seventh day of the test.
Responding to our inquiries about these experiments, the NIAID spokesperson said that "in this study, which was carried out at NIAID's Rocky Mountain Laboratories, the primates were treated in strict accordance with the standards described in the Guide for the Care and Use of Laboratory Animals, and the Public Health Service Policy on Humane Care and Use of Laboratory Animals required by the National Institutes of Health, Office of Laboratory Animal Welfare and the Animal Welfare Act regulations of the US Department of Agriculture in an Association for Assessment and Accreditation of Laboratory Animal Care International (AAALAC)-accredited facility."
"The study investigated Crimean-Congo hemorrhagic fever (CCHF), a viral disease spread by ticks in the Middle East, Asia, Africa and parts of Europe. Infection with CCHF virus is fatal in nearly one of every three cases. No specific treatments or vaccines for CCHF exist, primarily because a suitable animal model for studying the disease has not been available. This study was done to develop a suitable model for scientists to learn how the virus infects, progresses and interacts with the immune system," they continued. "Ultimately, scientists hope to use the animal model to develop treatments and vaccines for CCHF."
There does not appear to have ever been any reported cases of the virus in the United States.
An analysis conducted by White Coat Waste Project found that Fauci's NIAID has funded several extensive maximum pain (USDA Pain Column E) experiments on primates from FY13-20.
The USDA Pain Column E requirement includes, "all animals that experienced more than slight or momentary pain or distress that could not be relieved for study-related reasons."
Examples of tests that fall under this category, according to the USDA, include "chair-restraint of a NHP (non-human primate) that has not been conditioned for the time period of restraint," "drug or radiation toxicity testing producing unrelieved pain and/or distress," "exposure of an animal to an agent which produces unrelieved pain and/or distress," and "exposure of an animal to electrical shocks that are generally accepted as causing pain in humans."
Experiments conducted by NIAID under this category include infecting primates with Ebola and other hemorrhagic viruses, Tuberculosis, or inducing sepsis; and more recently, modeling SARS-CoV-2 on different primate species.