Minneapolis Principal Mauri Friestleben had been put on leave from North Community High School following her words of encouragement to students who wanted to protest the officer-involved shooting of Amir Locke.
In early February, Friestleben chose to join her students in a sit-in at Minneapolis City Hall protest for which she encouraged and trained them. That day, while some students headed towards the protest site, Deshaun Hill Jr, another student, was shot and killed as he headed home.
Amir Locke was shot and killed by officers executing a no-knock warrant after he produced a firearm as officers announced that they were police with a search warrant. Critics of the shooting argue that a split-second still frame released by the police department shows Locke holding the gun with his finger on the barrel and not the trigger.
State attorney general Keith Ellison, the former deputy chair of the Democratic National Committee, later announced that the shooting did not warrant charges.
"It would be unethical for us to file charges in a case in which we know that we will not be able to prevail because the law does not support the charges," Ellison said.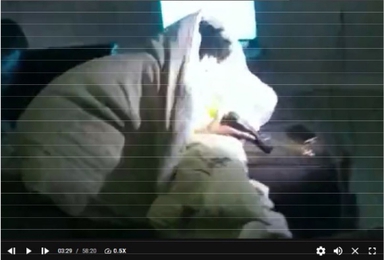 On Friday, Minneapolis Public Schools announced their decision to suspend Friestleben. Then the school board stepped in and pressured administrators to reverse their decision:
School board member Sharon El-Amin said the board of education was not informed of the decision to place Friestleben on leave until an hour before it went public. She said that normally a decision like that comes before the board to give final approval for termination.

El-Amin said she immediately took it upon herself to call administration "to stop something that's not fair or that seems to be extreme."

"How is it something like that, with such an amazing principal, that the board has no signs or anything about what's going to take place? When you have someone who has shown up and is doing amazing things within not only our schools, but our community? If something was that extreme for termination, we would have had some type of warning or … input to know that this was getting ready to even take place," she said, "and we had none."
Friestleben, in a statement that was sent to the families of her former students and later obtained by Timcast, said Hill's death — not her termination — was the true tragedy of the day.
As for her role and termination, the former principal is only blaming herself, admitting she was "strongly" advised to not attend the sit-in with students.
"I bear no ill will towards [Minneapolis Public Schools] whatsoever," she wrote. "I was 'strongly'  advised to not attend the sit-in with my students and I did so anyway. I will not hold anyone other than myself accountable for this outcome and ask others to do the same."
When she heard of her reinstatement, the principal issued another announcement acknowledging that she had already accepted the consequences having known her actions were a "protocol violation."
"Specifically, I encouraged our students to plan their own actions, I gave them examples of historical civil disobedience (like sit-ins) and pledged to join them in their action," she said. "The students did plan, organize, and walked out on Wednesday, February 9, 2022. I went with them to city hall and was in the crowd as they led their sit-in and spoke."