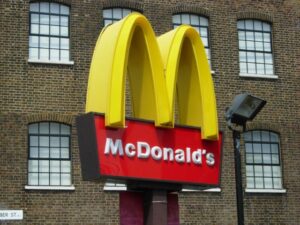 By Hannah Claire Brimelow
Restaurants are offing flashy benefits in order to meet their serious staffing needs amid national labor shortages.
McDonald is offering higher wages, paid time-off, and tuition assistance to attract new hires to its understaffed stores.
"McDonald's will be co-funding the efforts with franchisees with a multimillion dollar investment in the enhanced worker compensation programs, which include a pilot of an emergency child care program," reports CNBC.
Papa John's will pay $50 for every new worker a corporate employee brings to the company.
Chipotle aims to hire 200,000 new workers. They are offering a $200 referral bonus for new crew members and $750 for general managers.
In addition to referral bonuses, P.S. Chang's wants to use improved work-life balance to attract new hires. They gave workers independence Day off this year.
The U.S. Bureau of Labor Statistics reported that bars and restaurants lost 5.5 million Jobs between March and April of 2020. The global pandemic and lockdown orders required many businesses shut down.
This year restaurants and bars have added over 170,000 jobs but are struggling to fill the openings.
The CEO of Darden Restaurants Eugene Lee said his company's "greatest challenge right now is staffing." Darden owns Olive Garden, Longhorn Steakhouse, Cheddar's Scratch Kitchen and other chains.
Attracting workers is an uphill battle for the industry. After a year of economic uncertainty and layoffs, Americans' attitude toward their employment had shifted.
Many of the people who lost restaurant jobs have moved on to other industries.
Glassdoor analyzed the search preferences of unemployed restaurant workers. Its report found "restaurant servers are pivoting their job searches toward roles that are less impacted during the pandemic, but that require similar skills to restaurant work. Searches for "Amazon", "driver", "warehouse" and "supply chain" jobs are all up sharply among this group… ranging from roughly 150 percent to more than 600 percent increases compared to a year ago. Job searches for "remote" and "work from home" are also up 301 percent and 95 percent, respectively. Similarly, searches for "medical assistant" — a healthcare job that's booming during the pandemic — are up 126 percent."
Other people are not looking for work because of new government benefits,
"The American Rescue Plan, passed in March, increased unemployment payments by hundreds of dollars and extended them for up to 73 weeks. Given the cost of commuting, etc., many people find they are better off financially not working," says The Daily Signal.
As lockdowns and mask restrictions are lifted this summer, the American economy is gaining new momentum. Adequate staffing over the next few months could determine the financial well-being of business for the rest of the year.
For corrections, please email [email protected]