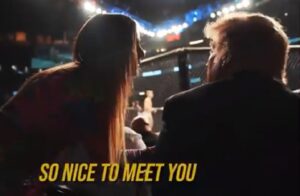 By Hannah Claire Brimelow
TikTok starlet Addison Rae faces speculation she is a secret Republican after introducing herself to President Donald Trump at UFC 264.
The dancer has been a popular creator on TikTok since 2019. "She now has 81.9M followers on the platform, and is estimated to be worth $5 million. Addison earns almost $70,000 per social media post and up to $80,000 per month from her YouTube channel that has over 4.7 million subscribers," according to The Sun.
The 20-year-old irritated journalists by saying she studied broadcast journalism for three months to prepare for the red carpet interviews she conducted before the event,
This was all a stunt, a source with knowledge of the situation tells @FOS. @whoisaddison was never employed by UFC, either in a full-time capacity or as a one-off for #UFC264. pic.twitter.com/sq4rL8pNs1

— A.J. Perez (@byajperez) July 10, 2021
Now a video titled "Addison Rae Says Hi to Donald Trump!" filmed at the event has over three million views.
Business Insider reported "the TikTok star can be seen leaving her seat after spotting Trump in the front row and tapping him on the shoulder. 'I'm Addison. Nice to meet you. I have to say hi, hello. So nice to meet you,' she told a person who appears to be Trump at Conor McGregor and Dustin Poirier's UFC 264 match on Saturday."
Clips of the interaction were posted on Twitter where Rae was denounced for 'fangirling' over Trump. One viral post of the video from the account DefNoodles was removed. The account was later suspended for violating Twitter's rules.
Addison Rae going to introduce herself to Donald Trump LMFAOOOOOOO pic.twitter.com/b57U4ej60Y

— jackie (@trippieejackie) July 13, 2021
you actually *don't* have to say hi https://t.co/NomVObFtCQ

— Meghan Rienks (@meghanrienks) July 13, 2021
Rae was previously accused on TikTok of being a Republican. A user named @tommy.memetastic claimed he had found proof through the Vote Joe app that had voted Republican in Tarzana, California in in 2014, 2016 and 2018.
However, because she was born in 2000 and is from Louisiana, the claim appeared to be false. In response to the accusation, Rae said she was not registered to vote.
The internet has a history of policing Rae's behavior. In addition to being called a Trump supporter, Rae has been accused of 'blackfishing' or altering her appearance to resemble African ethnicities. She posted an apology video in the summer of 2020 after a video resurfaced where she called Black Lives Matter a cult and said "all lives matter."
For corrections, please email [email protected]