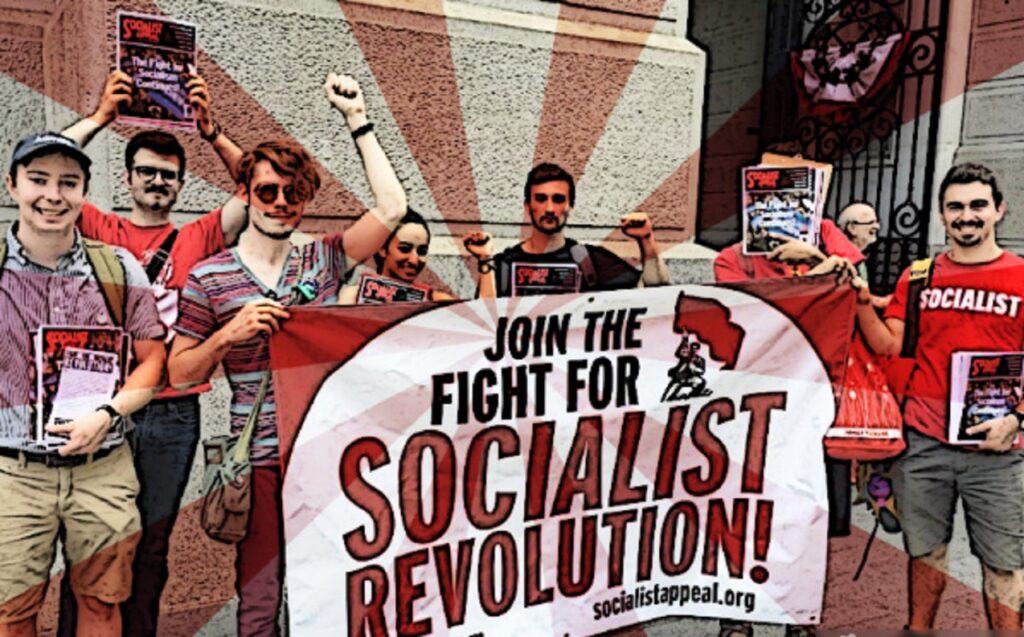 By Cassandra Fairbanks
A new national survey from North Dakota State University revealed that the majority of liberal college students consider themselves "unpatriotic" and favor Socialism.
When asked, "Are you proud to be American?" a whopping 57 percent of liberal students said "no."
In contrast, 73 percent of conservative students answered "yes."
The designers of the survey, NDSU professors John Bitzan and Clay Routledge, issued a statement to Campus Reform about the "surprising result."
"This is a surprising result. Previous work done by Clay Routledge shows that most Americans are proud to be American, regardless of political party, gender, race, religion, income, or employment status. We don't know why college students answered in this way, but the differences between answers by college students and the general population on a very similar question seem to suggest something unique that is worth further exploration," the professors jointly commented.
In another shocking portion of the survey, which focused on diversity of thought and viewpoint, there was a major difference in opinion about free speech. When asked if a student should be reported to the university for making an "offensive" comment, 76 percent of liberal students said yes.
A 69 percent majority of conservative students disagreed.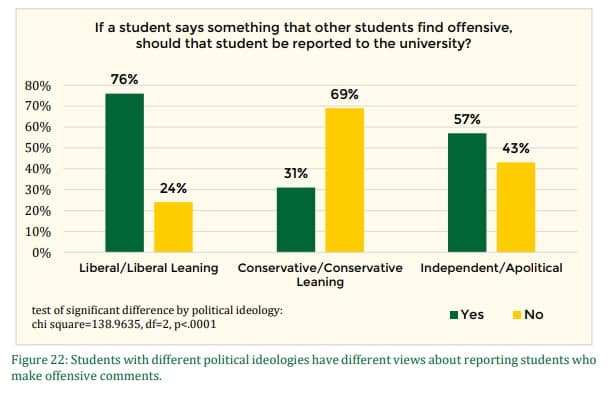 "A majority of students perceive a climate that is open to sharing of controversial or unpopular ideas in the classroom. However, many of those same students are in favor of reporting professors or fellow students who make comments they deem to be offensive," the study authors noted.
Additionally, only 34 percent of liberal students said that they feel uncomfortable sharing their views on controversial topics in class — while a majority 58 percent of conservative students said the same.
The pollsters also surveyed student's views on socialism and capitalism and found that "nearly half of liberal students and one-fifth of conservative students believe college has made them have a more negative view of capitalism. A majority of students across political groups agree that at least a few of their professors have expressed their views on capitalism and socialism. These students indicate that most of the time these views are unfavorable toward capitalism."
Of the students that they spoke to, 32 percent have a positive view of socialism, another 32 percent report a negative view of socialism, and the remaining 36 percent report a neutral view of socialism. Only seven percent of conservative students reported having a positive view of socialism.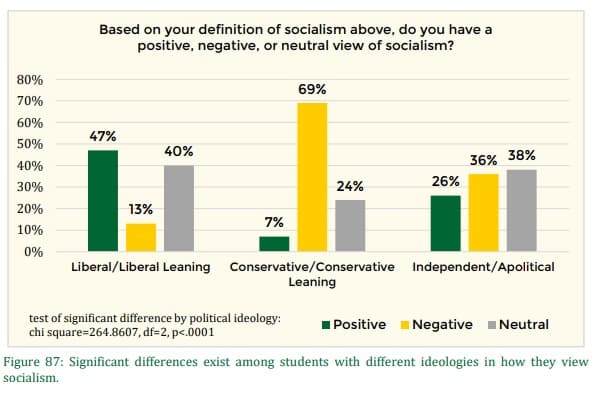 A majority of liberal students (65 percent) think socialism can help solve major challenges in this country, compared to a majority of conservative students (62 percent) who disagree.
The pollsters surveyed 400,000 students from more than 1,000 American college campuses for the study.
For corrections please email [email protected]