Four deputy district attorneys allege that Gascón demoted them after they "refused to engage in illegal activities."
Peter Cagney, Richard Hicks, Mindy Page, and Karen Thorp, the deputy district attorneys pursuing the lawsuit, claim that the District Attorney and his executive team punished them for refusing to follow orders from their supervisors that violated state law.
They join DDAs Maria Ramirez, Victor Rodriguez, and Jon Hatami, who have also filed lawsuits after claiming Gascón treated them adversely following their opposition to his reforms.
In the most recent complaint, the four plaintiffs allege that they "disclosed to their supervisors that laws were being violated if they followed Gascon's hastily conceived new resentencing guidelines, and that prison inmates that posed a serious and dangerous risk to society would be or were released from prison."
Additionally, they claim that following his directions would have forced them "to unlawfully hide the truth from the courts by mischaracterizing many violent offenses and hiding the inmate's propensity for violence."
Gascón has faced constant criticism since he assumed office in 2020. According to his campaign website, he identifies as a Democrat and believes that the criminal justice system must be reformed to promote "restorative justice."
Pursuant to that goal, Gascón has dismissed allegations against criminal defendants without notifying victims as California law requires, ordered that minors charged with murder not be tried as adults regardless of the circumstances, and barred prosecutors from attending parole hearings.
Miriam Krinsky, executive director of Fair and Just Prosecution, sees this as a step in the right direction.
"These leaders are creating a new normal in prosecution that reduces our reliance on incarceration, promotes public safety, and moves us closer to a justice system that truly lives up to its name," she said.
However, in the cases overseen by Gascón, victims and their families tell a different story.
"There was no accountability," Cassandra Cisneros, whose teenage daughter was stabbed multiple times by another teen and sent to the hospital, told Fox 11.
As a result of Gascón's stated promise to "reimagine public safety," Cisneros' daughter's assailant was merely given probation.
But prosecutors, citing Gascón's policies, said, "we filed appropriate charges on this case considering Geroge Gascón's new emphasis on restorative justice."
Cisneros now regrets the time she spent advocating for criminal justice reform: "When I was fighting for these laws to change for these young people, never did we intend for somebody to commit premeditated attempted murder at 13-years-old and get completely away with it."
The Los Angeles Association of Deputy District Attorneys agrees.
"Upon taking his oath to uphold the law, he issued blanket policies ordering prosecutors to dismiss allegations in pending cases with no consideration for notifying victims as is required by law," wrote Kathleen Cady, a former L.A. prosecutor and member of the LAADDA.
According to their press release, Gascón has also made hiring decisions that warrant scrutiny. Tiffany Blacknell, who Gascón appointed, has repeatedly used her social media accounts to criticize law enforcement, the justice system, and the practice of incarcerating violators of the law. In one such post, she described the Los Angeles Police Department as "barbarians" and an "occupying army" while calling for them to be defunded.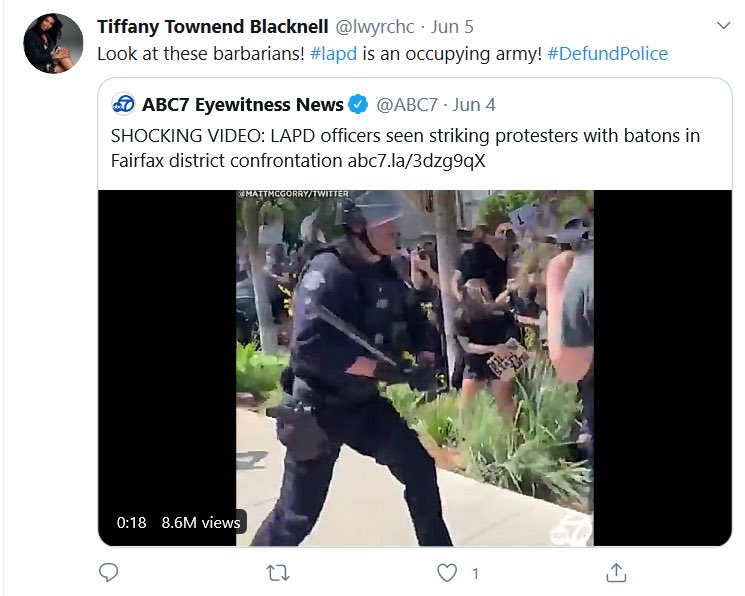 Blacknell was involved in a "sweetheart" plea deal involving a gang member facing murder charges. In coordination with Gascón, Blacknell allegedly authorized her special advisor to offer the defense just seven years in exchange for a guilty plea. The deal was ultimately declared invalid when it came to light that the prosecution and the victim's family were not notified of the possible arrangement.
Calabasas City Councilmember and former Deputy District Attorney James Bozajian released an open letter to Gascón condemning his tenure.
"On the very day you assumed office," he wrote, "you announced a series of 'reforms' seemingly designed with precision to turn the District Attorney's Office upside-down. Your actions since then have only aggravated the negative effects of these ill-conceived measures."
"Conservatives, liberals, and pretty much everyone in between understand the significant threats you have brought to our communities," he added.