Elisabeth Sims, a nurse in Monterey, California, would rather walk away from her career than get vaccinated.
For the past five years, she has worked for Community Hospital of the Monterey Peninsula, which is part of the Montage Health system. Sims has two kids, a five-and-a-half-year-old daughter and a two-year-old son. Her kids received their regularly scheduled vaccinations, as did she when she was a child. 
Now, Sims — along with an untold number of other nurses nationwide — has become a kind of modern-day Odysseus faced with a punishing decision: get the COVID-19 vaccine despite her reservations or lose her ability to provide for her family.
"There's something wrong with this picture," Sims, 31, told Timcast. "I took care of COVID patients for nine months without an N95, without a vaccine. I saw it up close and personal. I saw it firsthand. For a lot of my colleagues, we trust our bodies more than we trust something that not only is not approved but we have no idea what's in it."
When her hospital mandated that workers get vaccinated in August, Sims submitted a request for deferral because she is pregnant with her third child. She wanted more time to make her decision and was hoping she would not be forced to be vaccinated at the end of her maternity leave.
Workers who were granted religious or medical exemptions would have to follow other safety protocols, like being tested once or twice a week for COVID-19.
Montage Health, Sims's employer, accepted her request but added that she would need to be vaccinated by the end of her leave. 
Sims then tried for a religious exemption to the vaccine mandate, but that was denied on Sept. 2. Sims says the medical group ultimately denied every religious exemption that was presented to them.
Montage Health noted that they appreciated the effort and time she spent detailing her circumstances and beliefs. They added that they had "not made a judgment about the sincerity of your beliefs."
"After careful review and consideration, it has been determined that the requested religious exemption will cause an undue hardship because COVID–19 poses a significant and direct threat to the health and safety of our patients, many of whom are immune-compromised and/or otherwise vulnerable with fragile health conditions, our co-workers, and members of our community," Montage Health wrote.
The medical group said California regularly traces COVID-19 outbreaks to unvaccinated hospital workers and reiterated that all employees had until midnight n September 30 to get vaccinated.
"Because you are unable to comply with this policy, we have determined that the accommodation we can provide is to place you on an unpaid leave of absence for a period of up to 6 months. During your leave of absence, we will monitor the COVID–19 pandemic and related laws and regulations and will update you if we are able to provide an alternative accommodation," Montage said.
Then, the company sent Sims an almost identical letter, retroactively denying her request for a pregancy deferral. They once again offered her unpaid leave. 
Sims was in limbo. She wasn't fired but she could not work and was not provided any kind of pay. Her employment would be "re-evaluated" at an undetermined date in the next six months unless, of course, she changed her position and got vaccinated. In that case, Montage Health said, "we will welcome you back."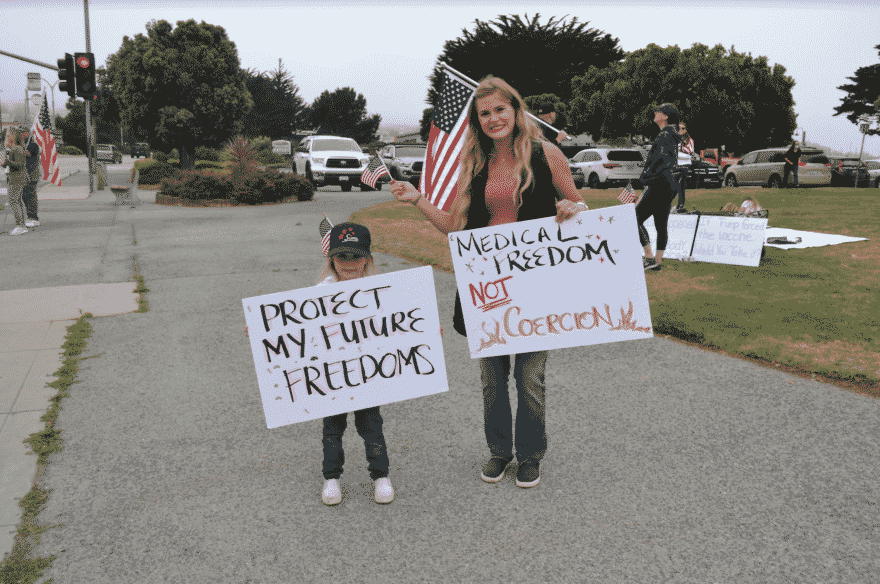 Sims and more than 50 other frustrated employees responded with a letter addressed to the chief human reasource officer, Greg Smorzewski, arguing three major points. 
First, their religious beliefs were sincere and that, by denying them, the company was discriminating against them. 
Second, "Montage Health is coercing medical treatment with EUA pharmaceuticals with severe, non-theoretical side-effects, which they are failing to communicate.  This coercion violates medical ethics and does not provide informed consent, a legal requirement codified in the Nuremberg trials," the employees wrote in their Sept. 9 complaint letter. 
And finally, they argued they were entitled — by the Constitution and by Montage's own ethical standards — to be reasonably accommodated. 
Montage Health justified its decision to refuse any applications for exemption because it claimed the accommodations would cause "undue hardship." The company has approximately 3,250 employees and could lose an estimated 80 over the vaccine mandates. A local news source reported that, as of September, more than 200 employees had refused the vaccine. 
Janet Bruno, an employee of the Community Hospital of the Monterey Peninsula (CHOMP) for 18 years, resigned rather than get vaccinated. She told The Caramel Pine Cone there is an intense amount of pressure at the hospital to get vaccinated. Employees are given stars to wear on their name badges to indicate their fully vaccinated status. 
"I'm very disappointed about how this was handled," Bruno said. "This was very unfair to the long-term employ- ees of CHOMP who worked throughout Covid."
Montage Health spokeswoman Monica Sciuto said that she expects the hospital to "continue normal operation" following the Sept. 30 deadline.
"That said, Community Hospital is not exempt from the shortages in some healthcare fields," she added, noting they are recruiting to fill vacancies.
Hospitals across America are bracing themselves for the impact of their vaccine mandates. Health care workers are in high demand and most hospitals are already in need of more nurses. Some medical professionals have left their jobs because of burnout, citing the long hours and strain caused by the pandemic. Staffing shortages are now being exacerbated as vaccine mandates go into effect.
Over 150 hospital workers in Houston resign or were fired for not complying with a vaccine mandate in June.
New York Governor Kathy Hochul said she is prepared to deploy the National Gaurd to fill staffing shortages once the state's vaccine mandate for healthcare workers sets in on Oct. 4.
A Survey from the American Nurses Association found one in every eight nurses are unvaccinated and do not plan to get vaccinated.
"Twenty-five percent of the nurses surveyed said they didn't trust or were unsure that the coronavirus vaccines available were safe and effective. Out of those who didn't intend to get vaccinated, 84% said there was not enough information about the long-term effects of the vaccine," reports Business Insider.
Since Sims is due to give birth on Oct. 28, she is not sure how her suspension will impact her health insurance, which she has through Montage Health, and, in turn, where she can deliver her baby.
"I at least have six months," she said. "I'll have the six months of disability for pregnancy leave. So at that point in time, we're planning to move because we can't afford our rent. … I can't really get a job in California at all, as a health care worker. [That's] what it's looking like for unvaccinated [people]."
Even if it might be easier to take the vaccine in order to keep her job, Sims says she will not comply with the mandate. 
"Money can't buy ethics and morals," she said. "I would never in my career tell a patient that they have to put something in their body that they do not want to, otherwise they're going to lose their job, and they're going to lose everything. I would never put someone in that situation. So I don't believe in being put in that situation."