Now-bankrupt gun manufacturer Remington has agreed to pay the families of five children and four adults killed in the Sandy Hook Elementary School shooting in 2012.
The wrongful-death lawsuit against the gun company was filed by the families more than seven years ago.
Shooter Adam Lanza had used a Bushmaster AR-15-style rifle to massacre 20 children and six adults at the elementary school in Newtown, Connecticut. The families argued that Remington should never have been allowed to sell such a powerful weapon.
"Lawyers for the plaintiffs contended that the company marketed rifles by extolling the militaristic qualities of the rifle and reinforcing the image of a combat weapon — in violation of a Connecticut law that prevents deceptive marketing practices," CNN reports.
The families had focused on Remington's advertising methods, which they maintained were targeted towards potentially troubled young men.
A report from the pro-gun website, The Truth About Guns, explains that "the civil court case in Connecticut focused on how the firearm used by the Newtown shooter — a Bushmaster XM15-E2S rifle — was allegedly marketed targeting younger, at-risk males in marketing and product placement in violent video games. In one of Remington's ads, it features the rifle against a plain backdrop and the phrase: 'Consider Your Man Card Reissued.'"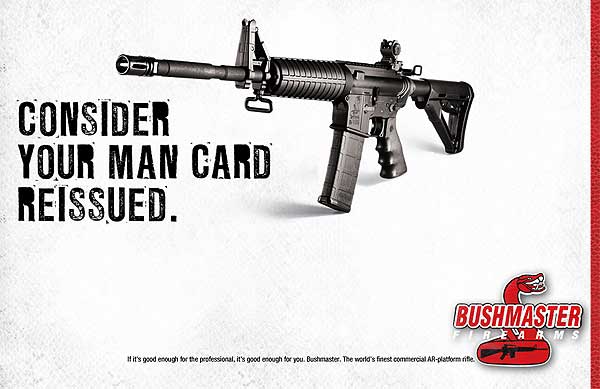 Remington maintained that there was no evidence that their marketing had anything to do with the shooting. The gun was also owned by Lanza's mother, not him.
The Supreme Court had declined to take an appeal by Remington in 2019, which allowed the suit to move forward.
The families have also "obtained and can make public thousands of pages of internal company documents that prove Remington's wrongdoing and carry important lessons for helping to prevent future mass shootings," the plaintiffs' attorneys said in a news release, obtained by the network.
"These nine families have shared a single goal from the very beginning: to do whatever they could to help prevent the next Sandy Hook. It is hard to imagine an outcome that better accomplishes that goal," the plaintiffs' attorney Josh Koskoff said.  "This victory should serve as a wake-up call not only to the gun industry, but also the insurance and banking companies that prop it up."
The $73 million was the top amount that the gun manufacturer's insurers could pay.