UPDATE: Rep. Dan Bishop posted a statement on Twitter disavowing multiple reports indicating his intent to consider retirement if the bid to stop Rep. Kevin McCarthy's speakership failed.
Fox News reported this story, but has since changed the headline. The web link to the story, however, still reflects the original headline indicating Bishop's intent to retire.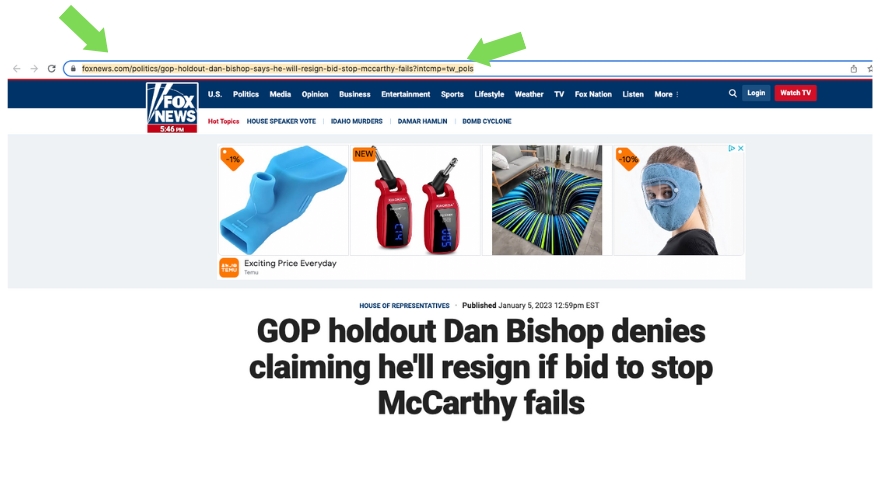 This account was also reported by the New York Post and Just the News.
Roll Call, which was cited by Timcast, also reported news of Bishop stating he would retire. But Roll Call has since edited the content within the article to reflect Bishop stating "I'm not leaving" without informing their readers that the piece had been edited. As of the time of this update, the article does not include a note indicating that the original story has been altered.
According to Bishop's statement on Twitter, "This story is incorrect. I said nothing of the kind – I will serve my term with all the force and vigor in me."
This story is incorrect. I said nothing of the kind – I will serve my term with all the force and vigor in me. https://t.co/zhwq8fxW1K

— Rep. Dan Bishop (@RepDanBishop) January 5, 2023
Original Story:
Following two days and six rounds of voting, Congress still does not have a Speaker of the House of Representatives as GOP leader Kevin McCarthy has been unable to secure enough votes despite his party holding a slim majority.
This marks the first time in a century that a Speaker has not been elected on the first ballot and underscores the tension between public officials content with the status quo and those seeking change.
Twenty House Republicans have opposed McCarthy's bid for Speaker, with one now saying he is willing to resign from Congress if the effort to bring change to the House fails.
"We're going to either see improvement up here the same way we made remarkable improvements in North Carolina in the state legislature, or I'm out," North Carolina Rep. Dan Bishop told Roll Call on the third day of voting.
Bishop said he's willing to consider resignation because he's "older than the average bear" and "not going to stay up here for decades."
Among the policy priorities of GOP holdouts is institutional change to how congress operates and a reorientation of the legislative body toward more closely representing the interests of American citizens.
Freshman Florida Rep. Anna Paulina Luna, who is not voting for McCarthy, says Washington D.C. is "fundamentally broken" and vows to represent the interests of her constituents.
"I have made my position clear, and it remains the same as when you elected me: I will stand strong until we get a Speaker who will fight for the American people and fix the chaos and corruption in our nation's Capitol," she wrote in a statement released on Twitter.
An update on the Speaker's race. 🙏🏼 pic.twitter.com/wTbldbaJp1

— Anna Paulina Luna (@realannapaulina) January 4, 2023
"I did not come to Congress to conduct business as usual or bow to the notion that this is just 'how things are done in D.C.' This is the same mentality that has failed Americans time and time again," she said, while reassuring her supporters, "I promised I would hold the line to ensure your voices are actually represented in Washington — and that is exactly what I am doing."
Independent journalist Emerald Robinson wrote on Twitter that Arizona Rep. Andy Biggs says that support is growing for Rep. Byron Donalds as the next Speaker.
BREAKING: @RepAndyBiggsAZ tells me that House opposition to McCarthy is gathering support for Byron Donalds as next speaker.

— Emerald Robinson ✝️ (@EmeraldRobinson) January 5, 2023
Editor's Note: The original title of this article — "GOP Rep Vows to Resign If Effort to Stop McCarthy Fails" — has been changed to reflect Bishop's denial of the reports. The subtitle, which previously stated "

As day three of voting continues, GOP holdouts remain committed to denying Kevin McCarthy the Speaker's Gavel," has also been changed to reflect the update.