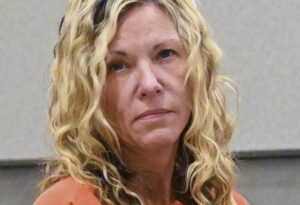 By Hannah Claire Brimelow
The Idaho mom accused of killing her two children has been indicted in the Pheonix-area on charges stemming from the murder of her ex-husband.
Lori Vallow Daybell is a member of Preparing A People, a doomsday cult, along with her current husband, Chad Daybell. 
Chad Daybell ran a publishing company and authored several books described as "doomsday-focused fiction loosely based on the theology of The Church of Jesus Christ of Latter-day Saints," by CBS News.
The couple caught the public's attention when the remains of her children, Joshua "JJ" Vallow, 7, and Tylee Ryan, 16, were found on Daybell's property in June of 2020. 
The children had been missing for weeks. According to NBC News, "Vallow and Daybell had never reported the children missing and did not cooperate with investigators before they fled the state."
Despite the recovery of the children's bodies, Vallow Daybell "was declared unfit for trial in the murder of her two children in Idaho" and then "ordered to get mental help before a judge decides if the case should proceed."
Now she is accused of plotting with her brother, Alexander Cox, to kill her ex-husband, Charles Vallow.
"Before Charles Vallow died, he filed for divorce, claiming in documents that his wife believed she was reincarnated and was a god sent to lead people during the second coming of Christ in July 2020, and she told her husband that if he got in her way, she would kill him," NBC News noted.
Cox, who shot Mr. Vallow on July 11, 2019 in Pheonix, AZ before calling 911 and reporting himself, died in December of 2019. At the time of the shooting, Cox claim he had acted in self-defense.
In addition, Chad Daybell "was also charged in the death of his ex-wife Tammy Daybell, who the couple had claimed was possessed by an entity called "Voila," prosecutors said. Vallow and Chad Daybell were married a month after Tammy died, in what was described initially as dying in her sleep," reports the New York Post.
Lori Vallow Daybell's trial regarding her involvement in the death of her children is on hold until she completes one-month of psychiatric treatment. 
For corrections please email [email protected]