Tom Baker, a deputy with the Nicholas County Sheriff's Department, was shot and killed and Corporal Joshua Ellison was wounded during a gunfight that erupted between the law enforcement officers and two suspects at the scene of a domestic disturbance call.
The suspects, Ritchie Holcomb and Tyler Kelly, "became agitated" while talking to the responding deputies at their riverside camper and retreated back inside. The deputies pursued them into the camper and attempted to subdue the men with tasers.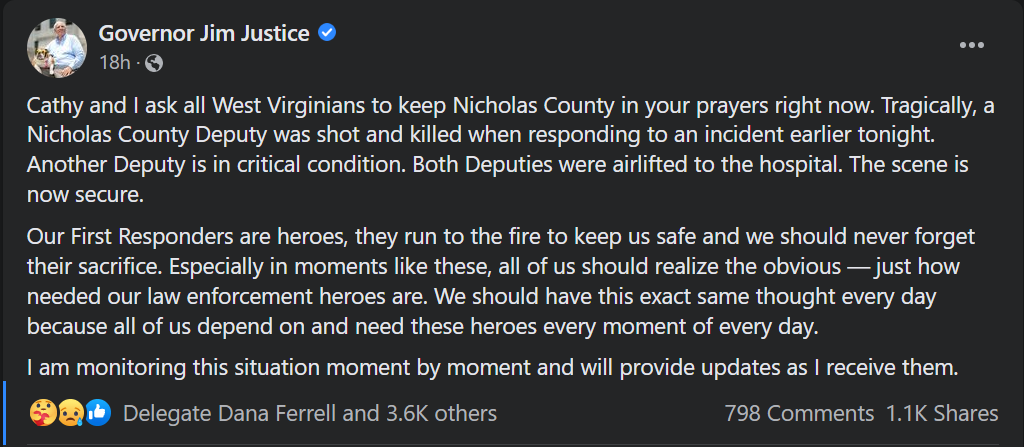 At that point, one or both of the suspects began firing at the officers. As the officers made their retreat from the camper, Deputy Baker suffered a gunshot wound to the back and Corporal Ellison sustained a gunshot wound to the leg.
Nicholas Co. WV Sheriff Deputies responded to a domestic call, found 2 men in a camper. After discussion, men ran inside, deputies pursued. Suspects began firing, Dep. Baker was fatally struck in the back, Cpl. Ellison was struck in leg. Prayers for our brothers & families

— WV Sheriffs' Assoc (@WVSheriffs) June 4, 2022
"Deputy Tom Baker passed due to his injuries," the Nicholas County Sheriff's Department said in a statement.
Both deputies were airlifted to a hospital, Governor Jim Justice said in a statement.
Our First Responders are heroes, they run to the fire to keep us safe and we should never forget their sacrifice. Especially in moments like these, all of us should realize the obvious — just how needed our law enforcement heroes are. We should have this exact same thought every day because all of us depend on and need these heroes every moment of every day.
Corporal Ellison received treatment for the leg wound and was initially listed as critical but has since been released. The sheriff's department indicated that Holcomb also died of injuries sustained when the deputies returned fire.
The other suspect, Kelly, was taken into custody and charged with murder.
Will Thompson, U.S. Attorney for the Southern District of West Virginia, said:
This tragedy is a stark reminder of the sacrifices made by our law enforcement officers in the line of duty for the safety and protection of others. We mourn with Deputy Baker's loved ones, our fellow law enforcement partners, the Nicholas County community and all of West Virginia. We are resolved that Deputy Baker's service and selfless dedication will be forever remembered.
As of June 3, the Officer Down Memorial Page records 112 law enforcement line of duty deaths. Twenty-one officers were killed by gunfire and another seven were killed by vehicular assault. Deputy Baker's name has not yet been added to the list.