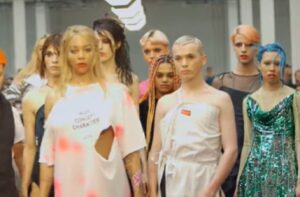 By Hannah Claire Brimelow
An Australian modeling agency announced it will no longer include gender in its models' portfolios.
Alice D, the Melborne-based agency, regards the move as an inclusivity measure. 
Kristie Klein is the Creative Director and editor of Alice D magazine. She said in an interview "A lot of brands were looking for models who were non-binary, but no agency was promoting them in that way." 
Moreover, Klein claims that cultural understanding of gender image means "there is no space for inclusivity." 
The company represents 35 models and has previously worked with brands like Adidas, Gucci, H&M and Nike. 
The agency's decision follows an industry-wide trend toward androgynous or gender-nonconforming styles. 
According to CNN, "Abercrombie & Fitch launched its first gender-inclusive clothing collection, called the 'Everybody Collection,' in 2018 for kids ages 5 to 14, because of customer demand. It features an assortment of children's clothes, including camouflage prints, bomber jackets and crew neck sweatshirts and tees influenced by skate culture." 
Pac Sun, Target, and Saks Off Fifth also have 'genderless' clothing lines. For the most part, the lines are targeted to was Generation Z shoppers. Pop star Billie Eilish's baggy-style is regarded as omen of the change of times. 
Not everyone celebrates the merging of men's and women's styles. To some, the popularity of the 'non-binary' identity is a threat to women. 
"A woman coming out as "non-binary" is a non-statement that declares nothing but common loathing of the female class," Sam Escobar writes on Feminist Current. "I can think of nothing more anti-feminist than an ideology that precludes the possibility of identifying and confronting patriarchal power, and instead individualizes oppression as though it is a 'personal choice.'" 
Last April, London Fashion Week was declared "gender-neutral" for the following 12 months. The British Fashion Council attributed to the decision both to GenZ's reported desire to forgo gender identity and to environmental concerns. 
"Androgynous dressing has become fashionable not only as a statement of fluidity, but because it signifies a conscious effort to be less wasteful," reported CNN Style. 
For corrections, please email [email protected]