West Virginia lawmakers have advanced a bill that would bar doctors from performing transgender surgery on minors.
After lengthy objections by Democrats on the House Health and Human Resources Committee, the legislation was sent to the House Judiciary Committee.
The three Democrats on the committee blasted the lack of physician consultation on this bill and condemned Republicans who support of it, the Mountain State Spotlight reported.
"This doesn't help anybody," Mike Pushkin, Chair of the West Virginia Democratic Party, said to the committee. "This is just an insult to people who are already marginalized."
House Bill 2007 criminalizes "irreversible gender reassignment surgery" to any individual under the age of 18.
Under the proposed legislation, banned procedures would include:
Penectomy, orchiectomy, vaginoplasty, clitoroplasty, or vulvoplasty for biologically male patients or hysterectomy or ovariectomy for biologically female patients;
Metoidioplasty, Phalloplasty, vaginectomy, scrotoplasty implantation of erection or testicular prostheses for biologically female patients;
Augmentation mammoplasty for biological male patient and subcutaneous mastectomy for female patients.
The gender reassignment surgery market was valued at nearly $2 billion in 2021, and is projected to grow at a rate of 11.23 percent annually.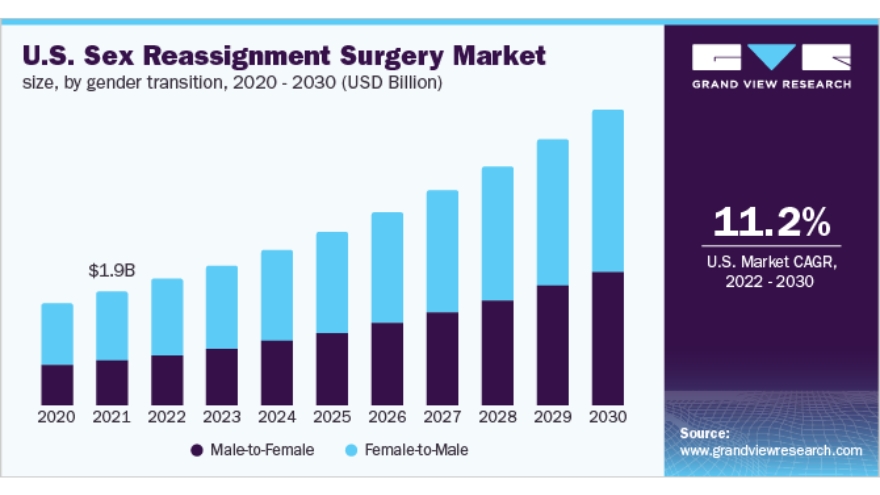 The legislation does allow doctors to treat youth for medically verifiable sex development disorders and infections, injury diseases, or disorders that have been caused by or exacerbated by a gender transition surgery that has already been performed.
The West Virginia bill is one of several proposals around the country that seek to restrict or ban gender surgery on minors. Other states include Texas, Oklahoma, and Kansas.
Advocates for transgender surgeries argue that these types of bills are unconstitutional and that this type of surgery is necessary to address problems such as gender dysphoria. Opponents of legislation criminalizing gender reassignment surgery for children also argue that such bills are discriminatory and will only serve to further marginalize transgender youth.
Though there has been a recent push to normalize and expand gender reassignment surgeries, there has also been more pushback from individuals who regret having undergone the procedures.
A TikTok user who goes by the name Cryspy shared a series of videos in 2022 warning children against surgeries, documenting a long list of medical complications.
"Long story short, that was a very traumatic experience for me to the point where, from that night on, that genitalia bothered me to the point where every time I would shower, I would break down. Just thinking about the fact that I had that down there would give me anxiety," Cryspy said.
"Everyday for me personally I'm reminded of my trauma through phalloplasty because I look at my arm everyday and I see this," Cryspy said according to the Post Millennial, pulling back a sleeve and revealing a large graft of skin removed from Cryspy's forearm that was used to construct the pseudopenis.