A teenage car thief was busted while hiding inside of a giant stuffed bear in the UK.
Joshua Dobson, 18, was arrested outside Manchester last month for motor vehicle theft, driving with a suspended license, and taking gasoline from a station without paying.
When police arrived to arrest him at his Rochdale home, the teenager did not appear to be around.
However, according to prosecutors during his sentencing hearing at Manchester Magistrates Court on Friday, police eventually noticed that a five foot tall bear appeared to be "breathing" in the corner — prompting them to do a "double-take."
After further inspection, it turned out that Dobson was hidden inside.
Police pulled him out of the plush toy and arrested him.
Rochdale Police posted about the strange hiding spot on Facebook, writing "Joshua Dobson was sought by us after stealing a car in May and not paying for fuel that same day."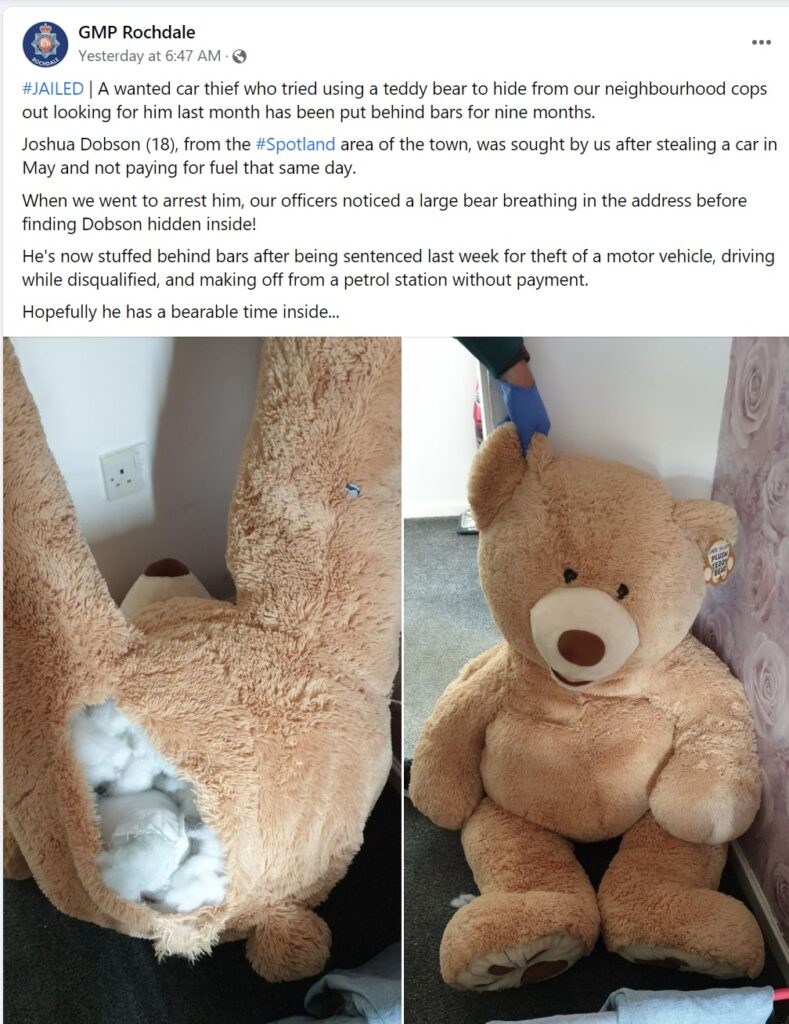 The department opted to have some fun with the pun-filled post.
"When we went to arrest him, our officers noticed a large bear breathing in the address before finding Dobson hidden inside," the post continued. "He's now stuffed behind bars after being sentenced last week for theft of a motor vehicle, driving while disqualified, and making off from a petrol station without payment."
"Hopefully he has a bearable time inside," the department concluded.
Dobson will now serve nine months in an institution for young offenders.