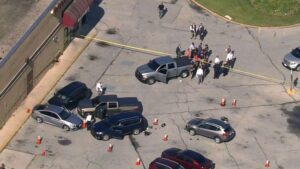 By Cassandra Fairbanks
Two Baltimore Police officers who were on a US task force were shot outside the Security Square Mall in Woodlawn on Tuesday morning.
The suspect, a 32-year-old man who has not yet been identified, was fatally shot — but both of the officers are expected to recover.
The officers were part of the U.S. Marshals Capital Area Regional Fugitive Task Force, which apprehends fugitives in the Washington, D.C. and Baltimore area. Usually, their targets are suspected of violent crimes.
The officers were at the mall serving a warrant for a homicide that took place in the city on June 19, according to a statement from Baltimore Police Commissioner Michael Harrison.
"Our officers were pursuing this individual," Police Commissioner Harrison said during a press conference. "They were doing their jobs when they were fired upon and were struck."
"What we saw today was exactly what officers go through; these are the most dangerous situations imaginable, but they did their jobs with bravery, with courage and with professionalism," he added.
When the officers approached his vehicle to serve the warrant, just before 8 a.m., the suspect began firing multiple rounds at them. Two officers were hit.
Several officers returned fire and the suspect. He was transported to the hospital where he died shortly after.