Will your vote count in 2024?
Analysts say "yes" and tell Timcast News that states have taken steps to ramp-up security efforts ahead of the 2024 election cycle.
New information documenting changes to state election laws and regulations runs counter to statements made by some conservatives who flood social media with warnings that the 2024 election will be stolen.
Georgia was (and remains) at the center of election chaos involving the 2020 election. A new grand jury is being sworn in on July 11 and could vote to charge former President Donald Trump with charges connected to what prosecutors allege was an effort to overturn the state's election results.
Amid suspicions that fraud may have been perpetrated through mail-in ballots, Trump pressed state officials to investigate and ensure that only legal ballots were counted toward the final tally. For example, he mentioned to Secretary of State Brad Raffensperger that thousands of mail-in ballots were sent to vacant addresses and that if only legal ballots were counted, he might have been declared the winner in the state.
A confidential Georgia election report provided to Timcast News shows more than 4,250 complaints related to the state's 2020 election. More than 300 of those complaints involved suspected mail-in ballot fraud during the 2020 election.
New state laws passed since 2020 would make it tougher for anyone to commit fraud through mail-in ballots.
"Georgia had a great voter ID law in place that was implemented back in 2008. But it was only required for in-person voting," Hans von Spakovsky, Manager of the Election Law Reform Initiative and Senior Legal Fellow at the Heritage Foundation, told Timcast News during an interview.
"And what happened in 2020? We had a huge increase in people voting by mail," Spakovsky explained. "So one of the smart things the state did in 2021 was they extended the ID requirement to absentee ballots. And, that was a good change."
Spakovsky continued, "Is the state now perfect? No. No state in the country is perfect. But, Georgia today is in much better shape than it was in 2020 because of the fact that the legislature actually passed a bunch of reforms that have improved the system."
Since the end of 2021, The Heritage Foundation has maintained its proprietary Election Integrity Scorecard, tracking changes to election laws, and comparing election laws and regulations of each state and the District of Columbia that impact the security and integrity of the process.
Until that time, there was no objective analysis of how good or bad states' election laws were when it came to integrity and security, Spakovsky said, "so we came up with 47 different criteria for judging that."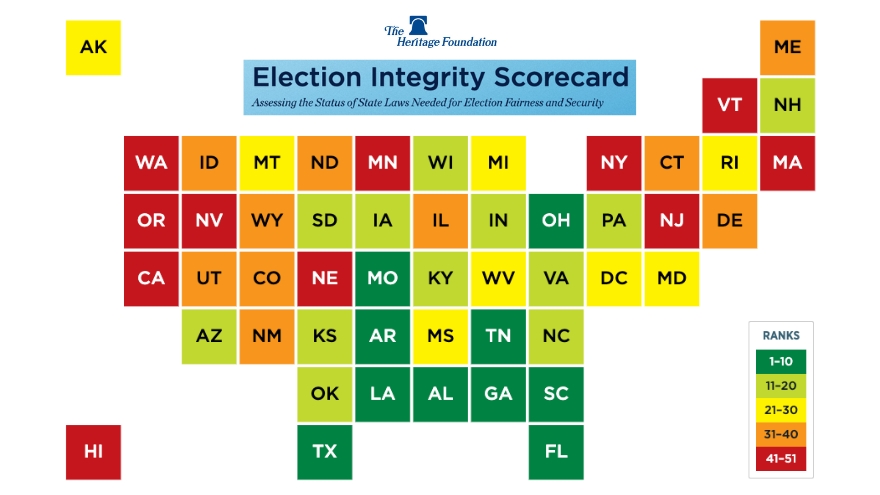 The database, which took a year to build, covers everything from whether a state has Voter ID laws in place, to how well they handle absentee ballots, and much more.
A perfect score, where a state was doing everything Heritage thinks they ought to be doing, would register a score of 100. "No state in the country scored 100," Spakovsky said. "The highest was in the low eighties."
States receiving the highest overall ranking include: Tennessee, Georgia, Alabama, Missouri, Arkansas, South Carolina, Florida, Louisiana, Ohio, and Texas.
The database is updated regularly. And if users access information for a specific state, they will be able to see the change in score since 2021, reflecting new laws and regulations put in place to better protect elections.
Visitors to the Scorecard can view interactive charts that show how states have changed in the following areas since 2021:
Voter ID Implementation

Accuracy of Voter Registration Lists
Absentee Ballot Management
Vote Harvesting/Trafficking Restrictions
Access of Election Observers
Verification of Citizenship
Identification for Voter Assistance
Vote Counting Practices
Election Litigation Procedures
Restriction of Same-day Registration
Restriction of Automatic Registration
Restriction of Private Funding of Election Officials or Government Agencies
Each state has both a score and a rank. The score reflects changes that have been implemented, while the rank reflects a state compared to changes made in other states. So, a zero or negative ranking doesn't necessarily mean a state hasn't improved, but that other states have simply enacted more reforms.
Presidential battleground states including Pennsylvania, Arizona, Wisconsin, North Carolina, Ohio, and Wisconsin, have all had their rankings increase since 2021.
While some states, like California, Oregon, Washington, and Massachusetts have not improved at all, many others have, leading Spakovsky to believe that voters should have more confidence in the 2024 election than they had in the 2020 election.
'Is the Entire System Corrupt?'
New polling data released on July 11 by the AP-NORC Center for Public Affairs Research shows that only 22 percent of Republicans are confident that the 2024 presidential votes will be counted accurately.
The numbers aren't much better overall: just 44 percent of the electorate are confident in an accurate vote count in next year's election.
Yet, despite widespread public distrust of the system, optimism about next year's election integrity is shared among other experts who are also tracking changes that state officials are making.
"Generally speaking, yes," the 2024 election will be more secure than 2020, Theodore T. Allen, Ph.D. Professor of Integrated Systems Engineering and Computer Science Engineering at Ohio State University, told Timcast News.
Allen is a member of the MIT Election Science Laboratory and his work includes enabling officials to run efficient and accurate elections using integrated systems engineering methods, including securing systems from cyber security threats.
The U.S. election system is complicated because of the diversity across counties and states, as well as the lengths of ballots in many states being high, he said. And though a well-resourced bad actor could potentially "interfere in virtually any world election," changes made throughout the U.S. are resulting in safer election architecture.
"There are many reasons to hope that the system will be more accurate than needed to distinguish voter intent on the races that matter to most voters," he added. "Many would-be voters will be discouraged and not vote, but there has been a decent effort to balance the concern of discouraging would-be voters (and increasing our generally mediocre turnout) with the concern of making the election secure for those who do vote."
Across the U.S., most counties and states "are doing more than ever to secure the chain of custody of the machines and ballots," Allen said.
"There are many well-intentioned people bringing a lot of sophistication and professionalism to supporting our system," he continued. "For example, there was a period, e.g., 20 years ago, when cybersecurity [was] not being thoroughly considered in some purchasing the decisions by some counties. That situation has changed for the better."
Alex Keyssar, Jr. Professor of History and Social Policy at the Harvard Kennedy School of Government, attributes public distrust and lack of confidence in U.S. elections to public statements made by Trump and former Arizona gubernatorial candidate Kari Lake, who have been pursuing legal action to bring transparency, accountability, and reform.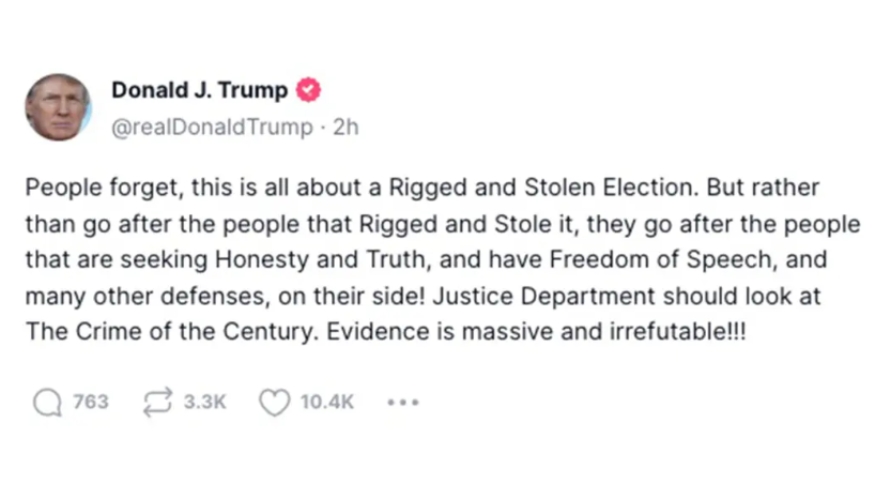 "Well, a major contributing factor is that the leader of one of the parties has been for years saying that elections are not counted accurately," Keyssar told Timcast News. "As have other leaders in his party, including a prominent person who ran for high office in [Arizona]" — a reference to Lake.
WATCH what happens when a Mama Bear takes down a Fake News Baier…

The Corrupt Media REFUSES to talk about the biggest story of our lifetime: a STOLEN election. Instead they try to divert our attention to meaningless stories…

I will never let them. pic.twitter.com/Me98qZG2ku

— Kari Lake (@KariLake) June 27, 2022
Former Trump advisor Kelleyanne Conway downplayed the idea that the 2020 election was stolen in a memoir she released in 2022. According to Conway, she told Trump that he legitimately lost and that there was no evidence of fraud. Trump denies she told him that he lost the election.
Others warned prior to the election that Trump was likely to lose, dampening allegations that fraud was necessary for Democrats to pull off a victory. History professor Allan Lichtman, who has correctly predicted the winner of each presidential contest since Ronald Reagan's reelection victory in 1984, told CNN in August of 2020 that Trump was going to lose.
But after numerous anomalies in multiple states, along with the failure of courts to actually hear a case where evidence and sworn statements were presented (the cases were dismissed for lack of standing, not because fraud was not proven), the idea that rampant fraud caused Trump to lose became crystallized.
"I mean, we have a lot of people saying that the elections are corrupt, the election count is not reliable. And when you hear it on certain kind of news outlets all the time, people start believing that," Keyssar added.
Though some speculate about the degree to which beliefs about widespread fraud could impact GOP voter turnout next November, Keyssar stated that it's unlikely that Republicans would take a major hit.
"It's not [a] matter [of] whether the turnout will be high, but about whether the people who think that there's election rigging going on will be the same people who don't turn up," he said. "We have to remember that even in a high-turnout election, 35 to 40 percent of the electorate doesn't vote. I don't think that, for example, the right-wing of the party, the Trumpists, are going to not show up because they've been told that the election count is off. They'll be told to show up, and I think they will."
Spakovsky says that individuals telling the electorate that U.S. elections are corrupted are making "a huge mistake, and a huge error" and that voters should dismiss those voices.
"Every vote counts, every vote could make a difference. Is the entire system corrupt? The answer to that is absolutely not. Are there some problems in some places? Yeah. But, the idea that the entire system is rigged and corrupt, that that is just not true," Spakovsky stated. "I mean, that's paranoia talking, and it's not the case. Does fraud happen? Yes. But that doesn't mean the entire system is fraudulent and that there's no point in voting at all."
Allegations of widespread voter fraud aren't new.
In 2002, U.S. Attorney General John Ashcroft, serving under then-President George W. Bush, directed the Department of Justice (DOJ) to open an investigation into voting rights and election fraud offenses.
Ashcroft "asked each U.S. Attorney and FBI Special Agent in Charge to meet with state officials who handle election violations in each district, in order to underscore the Department's commitment to preventing — and, if necessary, investigating and prosecuting — election fraud and voting rights offenses," he said in a speech announcing the initiative.
After a five-year investigation, top prosecutors within the DOJ were fired after they "failed to find the misconduct and refused to make partisan prosecutions," the New York Times reported.
In fact, despite the massive effort by DOJ officials, more Americans were charged with violating migratory-bird statutes than with election-related offenses.
"They were Republican U.S. attorneys who were instructed to go out and find fraud cases, and they couldn't find them," Keyssar said.
Future Election Security 
According to the Brennan Center For Justice, more than 20 percent of local election officials will be working their first presidential election in 2024.
That rate of turnover is equivalent to one or two election officials leaving office every day since the 2020 election, marking a significant loss of institutional knowledge, the Brennan Center stated.
Such a large percentage of people new to election-related jobs next year could result in mistakes that may be misinterpreted as purposeful attempts to game the system, which could further erode public trust in U.S. election outcomes.
Keyssar says one important step in helping to reassure the public that elections are being run fairly would be for state legislatures to create nonpartisan mechanisms and institutions charged with managing elections.
"That's not happening right now," he explained. "In theory, that's what secretaries of state were intended to do. But those offices have become more partisan."
Among other steps that state lawmakers should institute to shore up voter confidence in election results would be to expand verified ballot paper trails, create dependable and documented recount procedures, and to make sure we are electing honorable officials to positions that oversee elections, according to Allen.
"We need to support candidates with good character and give those who have decent or good character credit," he said. "Candidates with bad character, no matter how relatable or entertaining, subjectively erode trust."
Though we are within 18 months of the 2024 election, Spakovsky says there still may be time for public officials to pass new laws increasing election security. He noted, however, that most states have part-time legislatures that meet in the first quarter of the year. This means that they will likely need to pass any new laws in January or February.
"As early as they can in the general session," he explained. "Get it signed by the governor and get it effective as soon as possible, so that election officials can put it in place."
He added that "many states have very long early voting periods" where people can begin receiving absentee ballots a long time before Election Day, which can make it tougher to pass new election legislation during the year of a federal election.