Sports reporter Jackson Frank was fired by PhillyVoice for a post on X expressing "solidarity" with Palestine.
Frank was on the Philadelphia 76ers beat and had criticized the team's pro-Israel post on the platform.
"We stand with the people of Israel and join them in mourning the hundreds of innocent lives lost to terrorism at the hands of Hamas," the 76ers post read, along with the hashtag #StandWithIsrael.
— Philadelphia 76ers (@sixers) October 8, 2023
The sports reporter responded less than an hour later, "This post sucks! Solidarity with Palestine always."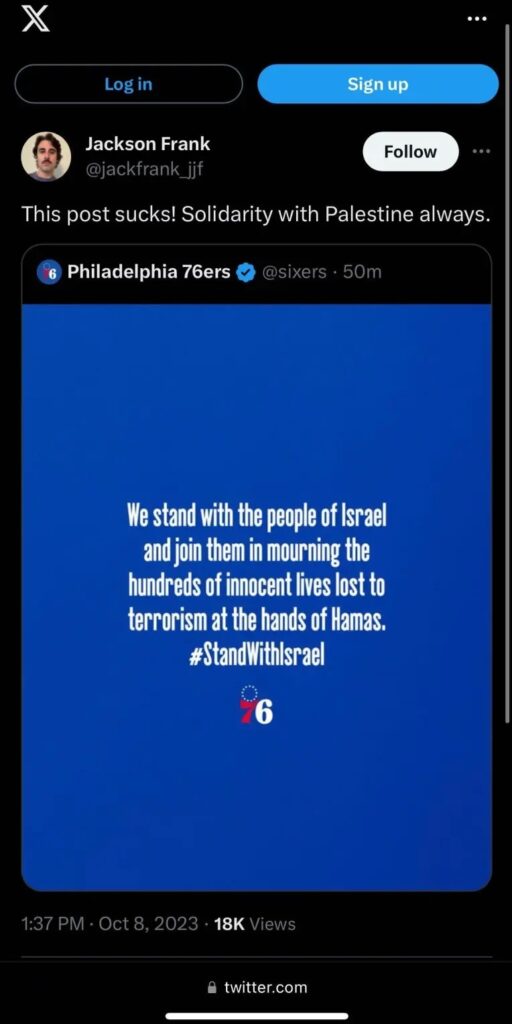 He was not the only one, the team's comments were flooded with people expressing opposition to the statement.
By the following day, the two-sentence tweet had cost Frank his job.
"Mr. Frank is no longer employed by PhillyVoice.com as of today," CEO Hal Donnelly told The New York Post. "We stand with everyone who is absolutely outraged by the senseless attacks in Israel, by the loss of innocent lives and violence against civilians."
When contacted for comment by the Post, Frank declined to comment. He has since deleted his entire X account.
Frank had reportedly only been on the job for about a month, taking over for Kyle Neubeck after his departure from the paper.