Sgt. Daniel Perry's case may see a re-trial, as a source close to the case confirmed to Timcast News that there are some serious concerns about juror misconduct — but the district attorney and mainstream media seem to be working overtime to ensure that any new jury pool is fully tainted.
Perry was convicted of murder earlier this month for shooting masked Black Lives Matter militant Garrett Foster, who approached his vehicle and raised a rifle toward him as he drove through a riot in July 2020.
Timcast News can confirm that allegations against at least one juror include evidence that he researched Texas self-defense law on his own and brought printouts of documents and incorrect information to the jury. He also told his fellow jurors that these documents showed that the burden of proof for self-defense falls upon Perry and his lawyers — the opposite of the truth.
On Tuesday, Perry's legal team filed a motion asking for a new trial because the defense was not allowed to introduce evidence that Foster was harassing other drivers before the fatal encounter.
While this is ongoing and working through the court, Travis County District Attorney José Garza petitioned to unseal additional "character evidence" allegedly showing Perry was hostile towards Black Lives Matter rioters. The documents were given to the Houston Chronicle.
Garza has likely done this knowing full well that there is a good chance a new trial will be granted.
As the feeding frenzy of corporate media rips through Perry's social media posts and text messages to paint him as a "racist," they are ensuring the court will be hard-pressed to find new jurors who have not seen these posts in the future — which supporters close to Perry believe may have been Garza's intent.
"If a new trial is granted, I have no idea how he will get a fair trial anywhere near Austin, Texas," the source lamented. "He is devastated sitting in a cell right now."
Most of the posts span over the course of several years and have nothing to do with the night in question. The likely-hyperbolic musings are from a time when many expressed frustration with the mobs of violent rioters who were ripping their cities and neighborhoods apart.
For example, a few weeks before the shooting, Perry wrote that he "might have to kill a few people" who were rioting outside his apartment.
However, Perry did not go out to meet the rioters on that evening or the night of the shooting. He was working as a rideshare driver and had dropped a passenger off nearby when the mob attacked his car as he tried to drive by.
The prosecution argued that he had run a red light and turned to where the activists were gathered; the defense argued that he was fleeing a mob.
"Sgt. Perry had dropped his client on or close to West 6th Street at approximately 9:15 p.m. Sgt. Perry made a right onto Congress Avenue from Fourth Street, and it was there that he first encountered a throng of people in the street," Perry's legal defense fundraiser explains. "It was not immediately apparent to Sgt. Perry what group was demonstrating and, prior to turning onto Congress Avenue, Sgt. Perry had been unaware that a demonstration was taking place. After Sgt. Perry turned onto Congress Avenue, several people started beating on his vehicle. Picture showing the damage to Sgt. Perry's car are in the possession of the police. The pictures included pictures of damage done by protestors hitting the car with brick, trying to pull the door of the frame and from bullets."
Foster had also made extreme social media posts, including advocating for violence and supporting riots, but the media are not dissecting these posts. He also gave an interview to a reporter about why he was carrying a rifle to an allegedly "peaceful protest," and said that it was because he wanted to march and that people were "too big of p-ssies" to stop him from doing so.
These posts, unlike Perry's, cannot be made public due to Texas discovery rules and policies. A few that the public has uncovered include cheering on the Minneapolis Police Department being burned down in 2020.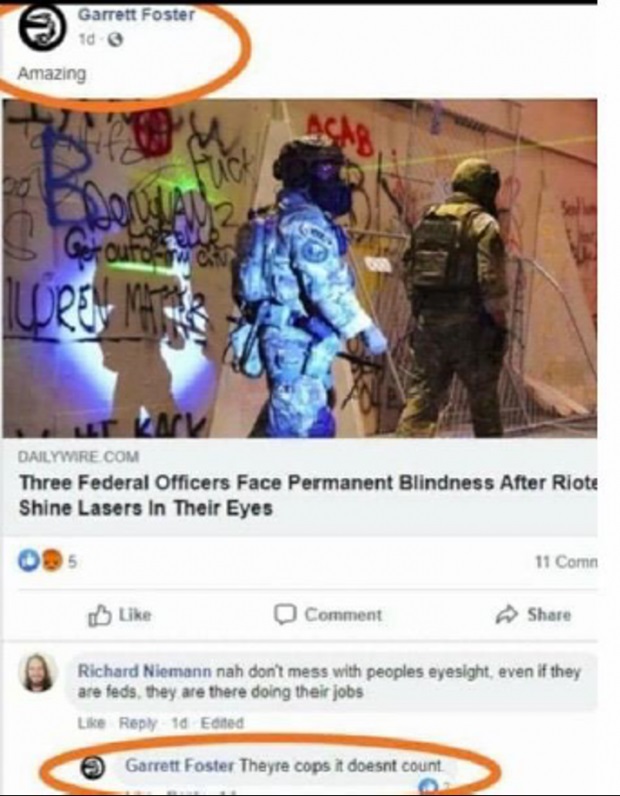 While Texas Governor Greg Abbott has signaled that he intends to pardon Perry, his defense must continue to plan for a new trial or appeal.
On Saturday, Abbott said he is "working as swiftly as Texas law allows regarding the pardon of Sgt. Perry," but he will only be allowed to do so if the state Board of Pardons and Paroles recommends it.
The source close to the case worries that Perry will be unable to afford the massive cost of defending himself in another murder trial. A fundraiser for his legal defense has raised $128,274 to date, but that has already been nearly depleted in the guilt or innocence phase of the trial.
Sgt. Perry was an active-duty soldier who had served for almost ten years, including a tour in Afghanistan. He has received numerous Army awards and commendations, including five Army Achievement Medals.