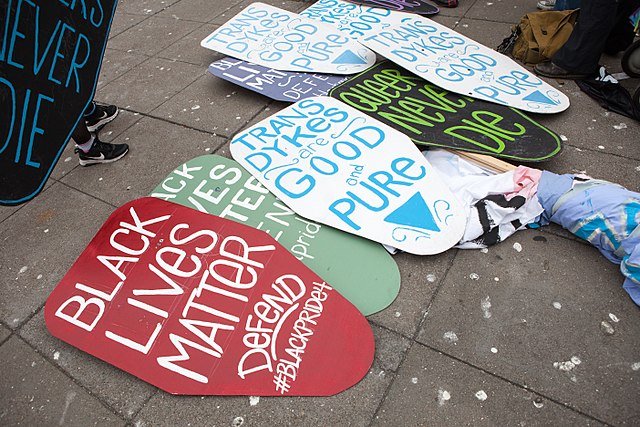 By Cassandra Fairbanks
A Seattle Pride event that is supported by the city will be charging a "reparations fee" to "white allies" who wish to attend.
People of color may attend for free.
Seattle City Council president and mayoral candidate Lorena Gonzalez and the Seattle Human Rights Commission are supporting the event, according to a report from local station KTTH.
Organizers of the event, titled "TAKING B(L)ACK PRIDE," say that "white allies and accomplices" must pay the reparations fee. It is not optional. The stated goal of the event is to amplify "the voices, narratives, and contributions of black queer and trans voices."
White people who attend will be charged on a sliding scale of $10 to $50 depending on their "ability to pay."
"All are free to attend HOWEVER this is a BLACK AND BROWN QUEER TRANS CENTERED, PRIORITIZED, VALUED, EVENT. White allies and accomplices are welcome to attend but will be charged a $10 to $50 reparations fee that will be used to keep this event free of cost for BLACK AND BROWN Trans and Queer COMMUNITY," the Facebook page for the event states.
The event will be held in Jimi Hendrix Park, which is owned and operated by the city of Seattle. "This raises questions about the legality of a reparations fee," KTTH noted.
"Critics question whether race-based admissions fees are appropriate. Seattle Municipal Code clearly prohibits racial discrimination. But organizers have pushed back, calling criticism of their admissions structure 'casual violence,'" KTTH reports.
Seattle Parks and Recreation explicitly prohibits racial discrimination in their parks — whether or not the organizers have a permit for the event.
"It is unlawful for any person occupying or using any park or recreation facility for any event, activity or exhibition open to the public, whether or not under a permit and whether or not an admission or entrance fee is charged, to deny to any other person the full use and enjoyment of such park and recreation facility because of race…" according to Seattle Municipal Code (18.12.280).
Seattle's Capitol Hill Pride event, who banned members of law enforcement from participating in their own parade, has condemned and called into question the legality of the reparations system.
While the violation may seem pretty clear, the Seattle Human Rights Commission is defending the organizer's decision.
Our response to Capitol Hill Pride 2/2 pic.twitter.com/R7gcNNnvNb

— Seattle HumanRights (@SeattleHRC) June 18, 2021
"Black trans and queer peoples are among the most marginalized and persecuted peoples within the LGBTQIA2S+ community," the Commission wrote. "They often face shame not only from the cis-heteronormative community, but within the queer community at large as well. In making the event free for the Black Queer community, the organizers of this event are extending a courtesy so rarely extended; by providing a free and safe space to express joy, share story, and be in community."
Seattle City Council president and mayoral candidate Lorena Gonzalez was so offended by Capitol Hill Pride speaking out against the reparations that she cancelled her speech at their event.
"After a year that has taken an unbelievable toll on all of our communities, I was looking forward to this opportunity to celebrate Pride in person," Gonzalez tweeted. "However, I simply cannot support an organization that is trying to stop Black people in the LGBTQ+ community from celebrating Pride in the manner that they choose."
View this post on Instagram

Timcast.com has reached out to Seattle Parks and Recreation for comment on the legality of the discrimination and will update this story if one is provided.
For corrections, please email [email protected]