Salman Rushdie's book Satanic Verses temporarily sold out on Amazon and topped several of their bestseller lists after he was stabbed in New York.
Rushdie was stabbed ten times in the neck, face, and abdomen while speaking at an event on August. He has since been removed from a ventilator and is reportedly able to speak.
Salman Rushdie was taken to the hospital by medical helicopter.
Author Salman Rushdie was stabbed after taking stage at a Chautauqua Institute event.

This man has been detained by police.-#NYPD#SalmanRushdie #Newyork pic.twitter.com/M2xt3nicbh

— Chaudhary Parvez (@ChaudharyParvez) August 12, 2022
At time of publishing, the 1988 book is number one of the Contemporary Literature & Fiction and Fiction Satire bestseller lists, and number two for Politics & Social Science. The Spanish version of the book is currently at the top of the Best Sellers in Literature & Fiction in Spanish list.
Overall, the book was the 27th bestseller on the online retailer on August 16.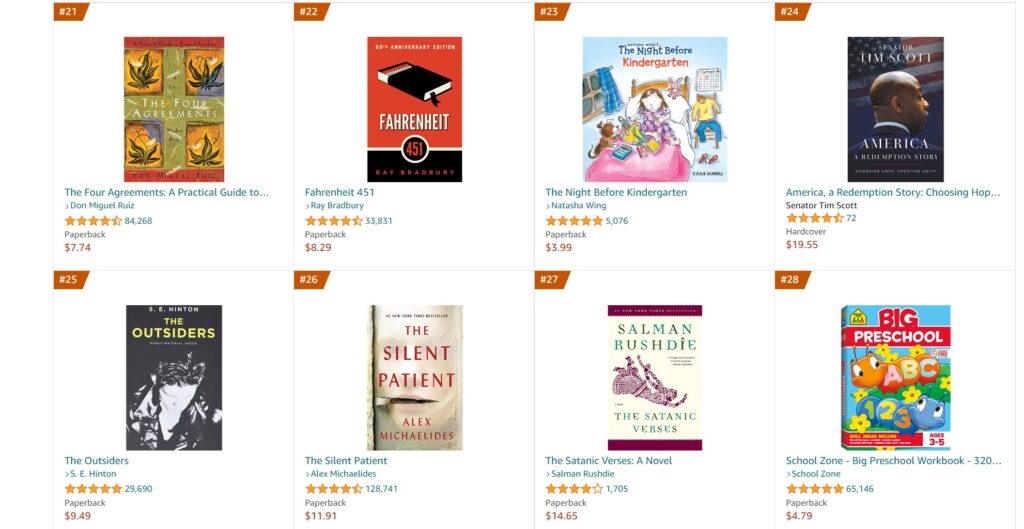 "His other books, including "Midnight's Children" and "Joseph Anton: A Memoir" had similarly topped the Best Sellers list for the Asia Myth & Legend and Religious Intolerance section respectively, where the former had previously not broken top 50 last month," CNBC reports.
Earlier in the day, paperback editions of the book were sold out, according to a report from Mediate. At the time of this report, five copies were made available by resellers.
"One of the most controversial and acclaimed novels ever written, The Satanic Verses is Salman Rushdie's best-known and most galvanizing book," the Amazon description reads. "Set in a modern world filled with both mayhem and miracles, the story begins with a bang: the terrorist bombing of a London-bound jet in midflight. Two Indian actors of opposing sensibilities fall to earth, transformed into living symbols of what is angelic and evil. This is just the initial act in a magnificent odyssey that seamlessly merges the actual with the imagined. A book whose importance is eclipsed only by its quality, The Satanic Verses is a key work of our times."
In 1989, Rushdie went into hiding after publishing the novel, which was highly critical of Islam. At that time, the government of Iran issued a fatwa, or decree, offering a $3 million reward for him to be killed. The fatwa remains active to this day — and in 2012 an Iranian religious foundation added an additional $500,000 to the reward.
Rushdie was born in India and has lived in the United States since 2000.
The injuries sustained in the attack mean Rushdie will likely lose an eye. His liver was also damaged and he had nerves severed in one arm.
Hadi Matar, 24, of New Jersey, has been charged with second-degree attempted murder for the stabbing attack on Rushdie and second-degree assault for injuring the man moderating the event.
Matar is currently being held without bail in the Chautauqua County Jail. His attorney has entered a not guilty plea on his behalf.