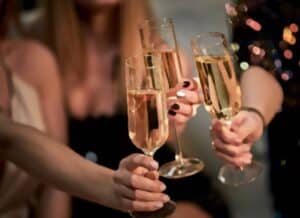 By Hannah Claire Brimelow
A new law from Moscow that requires the term 'champagne' be used exclusively for Russian wines has disrupted international wine distribution.
Champagne is most well known as the fizzy white wine produced in the eponymous region of France 90 miles southeast of Paris. Romans were the first to plant vineyards in the region around the 57 BC. It was considered a rival of red wines produced in the Burgundy region until its popularity was cemented in the 12th century. Today, it is synonymous with celebration and toasts. 
The popular export has been closely regulated by the French government. The Treaty of Versailles in 1919 included provisions for how the term could be used but was not universally enforced. In 2006, the European Union and the United States signed a new wine-trade agreement which limited the commercial use of protected terms like 'champagne,' 'port,' and 'burgundy.' 
Exceptions were given to those who already had an approved label. Miller High Life got to keep its tagline "The Champagne of Beers" and domestic brand Korbel is still labeled as a champagne. 
Wines are permitted to use the term so long as it is in conjunction with their place of origin. For example, California Champagne. 
AP News reports that "since Soviet times, champagne — 'shampanskoye' in Russian — has been used as a generic term for a wide range of sparkling wines, some of which contradict champagne's luxury image by selling for as little as 150 rubles ($2) a bottle." 
Following its adoption on July 2nd, Moet-Hennessey announced it would halt deliveries of its signature products to "to assess the impact of this new law." 
The brand announced on Sunday that it would begin adding "sparking wine" to the back of bottles sent to Russia. 
"The MH Champagne Maisons have always respected the legislation in force wherever they operate, and will resume deliveries as quickly as possible once these adjustments are made," a statement from a spokesperson read. 
For corrections, please email [email protected]