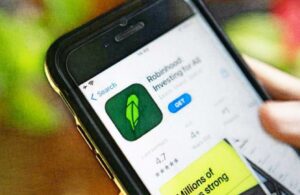 By Cassandra Fairbanks
The stock trading company Robinhood has settled with the family of a 20-year-old man who committed suicide last year after his account incorrectly showed a negative balance of $730,000.
Alex Kearns took his life in June, 2020.
On June 11, Robinhood restricted Kearns account and showed him a negative balance of $730,000. At 3:26 a.m. that evening, the company sent him an automated email demanding "immediate action" of paying over $170,000 in just a few days.
The debt was shown in error, however, and according to the family's attorneys, Alex may not have lost money at all because of the way his options bets were structured, CBS News reported in February.
Kearns emailed the support address at Robinhood three times that evening and the next morning. He asked for help to understand what happened and if he could offset losses with another trade. The company had no customer service phone number listed, and he could not reach anyone for help.
He wrote in one email, "I was incorrectly assigned more money than I should have, my bought puts should have covered the puts I sold. Could someone please look into this?"
All he received was an automated message that read "thanks for reaching out to our support team! We wanted to let you know that we're working to get back to you as soon as possible, but that our response time to you may be delayed."
Later that day, believing that he has destroyed his entire future, Kearns took his own life.
The following day, Robinhood sent him an email letting him know that the trade was resolved and he was not in debt with them.
"Great news!" The email read, "We're reaching out to confirm that you've met your margin call and we've lifted your trade restrictions. If you have any questions about your margin call, please feel free to reach out. We're happy to help!"
In February, his family sued the company for wrongful death, negligent infliction of emotional stress and unfair business practices, according to their S-1 filing that was released on Thursday. Robinhood settled, but the terms were not listed in the filing.
The Daily Caller reports that the Financial Industry Regulatory Authority (FINRA), a private Wall Street regulator, cited Kearns' suicide in a statement Wednesday announcing a $70 million penalty on Robinhood.
"In determining the appropriate sanctions, FINRA considered the widespread and significant harm suffered by customers, including millions of customers who received false or misleading information from the firm," FINRA said in the statement.
Robinhood must pay $12.6 million in restitution to other customers who had also been shown incorrect account balances.
For corrections, please email [email protected]