A judge has ruled in favor of Republican congressional candidate Tommy Altman who sued to stop "obscene" books from being distributed to minors in Virginia Beach public schools.
Altman brought two books before the courts, "Gender Queer: A Memoir" by Maia Kobabe and "A Court of Mist and Fury" by Sarah J. Maaswhich, which include visual and written depictions of nudity and sex acts.
Gender Queer is currently listed at the top of the American Library Association's  Top 10 Most Challenged Books of 2021 list. It contains graphic images of genitalia, bodily functions and sexual acts, despite being made for children. The organization gave the book a Stonewall Book Award in 2020 for "its depiction of the LGBTQIA+ experience."
"These books go far beyond the usual themes children may read in the fantasy genre and include graphically described scenes of sex, gore, excessive profanity, and even depict sexual acts performed by a minor.  This is wildly inappropriate for school aged children, especially when those children can access these books without parental consent," said Altman in a statement provided to Timcast.
In the ruling, Circuit Court Judge Pamela Baskerville determined that there was probable cause "pursuant to 18.2-384 of the Code of Virginia" to declare the books obscene for unrestricted viewing by minors. This ruling will prevent any distribution of these books to children without parental consent — including in public libraries and bookstores.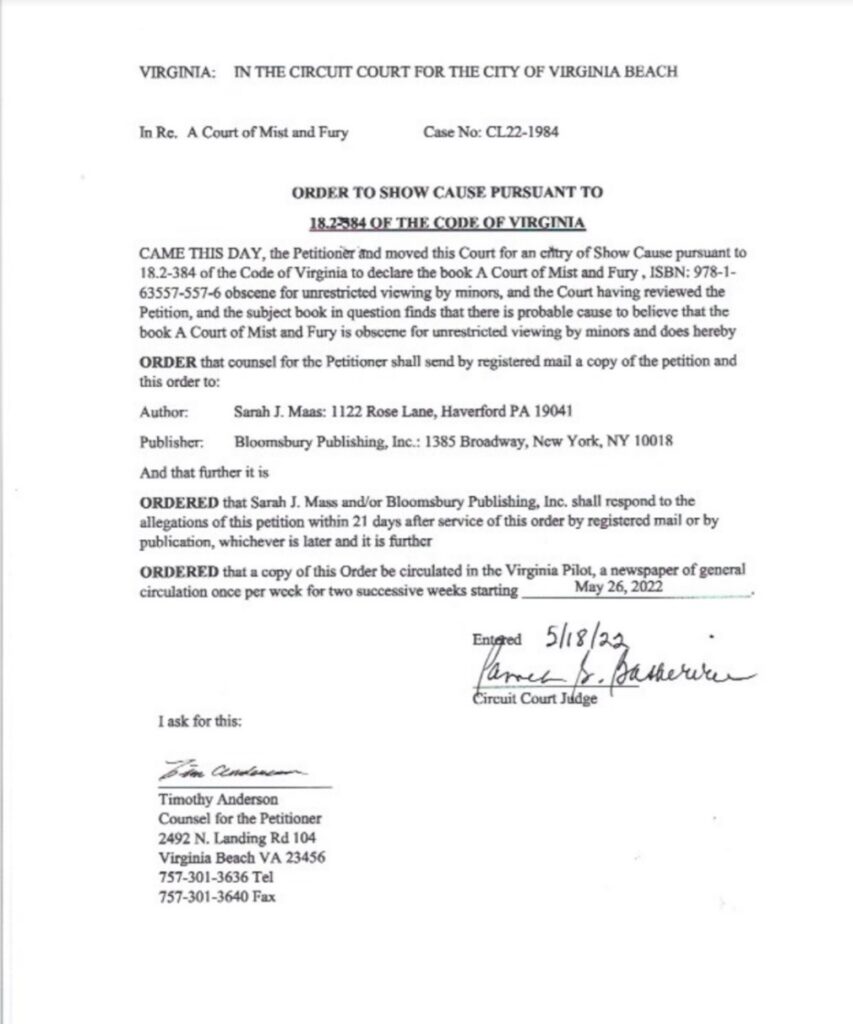 "Parents have a right to make decisions about what is being exposed to their children and this is just one of many steps my team and I are taking to prevent the sexulization of our children," Altman added.
The authors and publishers have 21 days to challenge the court's ruling.
Gender Queer was removed from Virginia Beach school libraries last week after school board member Victoria Manning complained about their content. An investigation was launched and a working group determined the illustrations are "pervasively vulgar." They additionally determined that the book does not accurately portray "important and necessary health procedures in a manner that is common for most people," raising questions about the "educational suitability of the book."
Manning has also raised concerns about "Lawn Boy" by Jonathan Evison, "A Lesson Before Dying" by Ernest Gaines and "The Bluest Eye" by Toni Morrison.
It's time to return to an America where the importance of family was valued and our kids could be kids. pic.twitter.com/u2OT6IxY7H

— Tommy Altman (@TommyAltman) May 18, 2022
Altman is a husband, father, tattoo artist, minister, and Air Force Special Operations combat veteran. His campaign website states, "I'm running because Virginia deserves a bold, outspoken fighter, not another 'business as usual' politician. In short, I'm running because the government needs more people like you." He is running to unseat Democrat Representative Elaine Luria.