Photographer Chelly Bouferrache was hired by Rebel News after she was barred from photographing The Post Millennial's senior editor Andy Ngo's civil trial against Rose City Antifa and alleged affiliates.
Bouferrache was barred from photographing Ngo's trial Wednesday afternoon after an alleged Antifa affiliate Hailley Nolan attempted to inform a deputy that Bouferrache was "fake media." Nolan insisted the court check the freelance photographer's press pass during Ngo's testimony. After continued demands to authenticate the freelance photographer's press credentials, the Court obliged Nolan and verified the freelance photographer's press pass.
The freelance photographer was subsequently removed as a photographer after Bouferrache's credentials were deemed "insufficient" as a freelance photographer rather than an employee of an outlet. However, Bouferrache learned another freelance photographer had been chosen to photograph court proceedings as the press pool photographer.
Bouferrache asked an onsite Sheriff's deputy why another freelancer was allowed to report on the trial when she wasn't — to which the deputy said the other freelance photographer was "well known."
When Bouferrache pressed the deputy about the freelance photographer, the deputy reportedly shrugged his shoulders.
A court clerk reportedly told Bouferrache she was still allowed to sit in during court proceedings, though the freelance photographer declined and attended a lunch with other supporters of Ngo's.
During the lunch, Bouferrache detailed events leading up to her removal as a photographer as one man, whom she later learned was founder and CEO of Rebel News Ezra Levant, offered her an employment contract to counter the Judge Champone P. Sinlapasai's decision over her "insufficient" press credentials.
Levant reached out to a Rebel News contractor who emailed Bouferrache an eight-day-long employment DocuSign contract.
So, I'm on the last bit of my break before I go back in to continue coverage (yay for me being the pool photographer) for @RebelNewsOnline and @TPostMillennial! A huge thank you to @ezralevant for taking a chance on hiring me. He's the best. And thank you to @libbyemmons for…

— HoneyBadgerMom (@hunnybadgermom) August 3, 2023
On Thursday, Bouferrache returned to the courtroom in hopes of being reinstated as a photographer. When the former-freelance photographer insisted she had obtained an employment contract, a defense attorney objected claiming they had not received a copy of her contract. Judge Sinlapasai quashed the attorney's concern insisting she had received a copy of the contract. Bouferrache was subsequently selected as the court press pool photographer for Thursday's court proceeding.
Nolan and other protestors disrupting court have been reprimanded. Bouferrache said behavior from protestors would warrant the judge ruling them in contempt of court during normal court proceedings, though none have been removed from the court gallery as of Friday.
Following Ngo's trial, an X account claimed Bouferrache was "taking pictures of people in the gallery of the courtroom." The account, which the plaintiff believes to be associated with defendant Elizabeth Renee Richter per The Post Millennial's reporting, also claimed another man was with Bouferrache "intimidating" visitors of the courtroom.
"[Bouferrache] was taking pictures while pretending to be press and it caused such a disturbance that the judge had to send new orders in place that only one member of the real press is allowed to be there taking pictures," reads a post from @RisingPDX.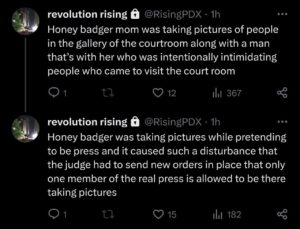 Bouferrache denied the account's allegations.
Leading up to Ngo's trial, the account referred to Ngo as a "maggot" and further referenced The Post Millennial senior editor's infamous 2019 "concrete-infused" milkshake assault by alleged Antifa members.
Safety concerns were brought up with Sinlapasai at the beginning of Wednesday's proceedings. The account appears to have gone private following safety concerns raised by Ngo's team.
Sinlapasai reportedly issued a warning noting strict security measures had been placed in response to alleged threats of violence prior to Ngo's trial.