An Oregon high school teacher is under fire after giving students an assignment to write about their sexual fantasies.
Kirk Miller, the health teacher and football coach at Churchill High School in Eugene, also previously made students play a game called "With Whom Would You Do It?" where they had to spin a wheel with categories including oral and anal sex.
The students had to give the initials of the classmate they chose for each x-rated activity during the February assignment. The instructions read: "List on the handout the initials of a male or a female that you would do each activity with. You may use the same person for multiple activities."
In Miller's fantasy writing assignment, students were asked to write about sexual kinks, including feathers and the use of flavored syrups.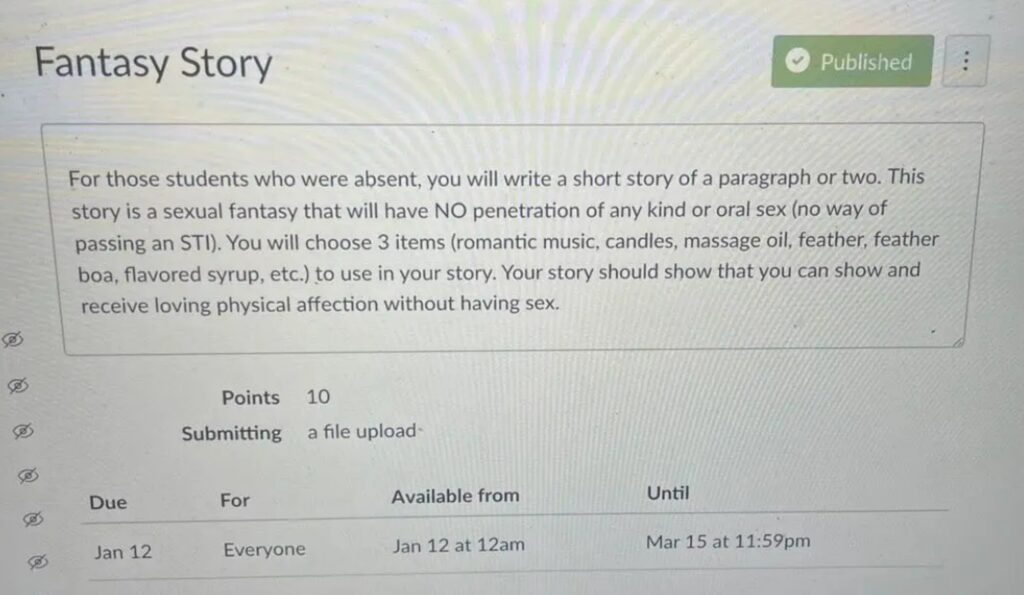 "You will write a short story of a paragraph or two. This story is a sexual fantasy that will have NO penetration of any kind or oral sex (no way of passing an STI),'' the assignment read. "You will choose 3 items (romantic music, candles, massage oil, feather, feather boa, flavored syrup, etc) to use in your story. Your story should show that you can show and receive loving physical affection without having sex."
Oregon Live reports, "in an email sent to Churchill High families on Thursday night, Principal Missy Cole said she and other administrators at the high school will work with Eugene school district officials to review its high school health curriculum, which is called Our Whole Lives and was developed by the Unitarian Universalist Association and the United Church of Christ."
A teacher in @4Jschools allegedly gave students this assignment to write a detailed paper about a sexual fantasy pic.twitter.com/ONH2Qx57Lv

— Libs of TikTok (@libsoftiktok) March 10, 2023
Cole said in the email that the same assignments are being given to other children in the state.
"At this time, the assignment has been removed from the class syllabus and will not be a part of students' grades," Cole wrote in the email. "The Our Whole Lives curriculum is utilized by many districts across the state and is endorsed by the Oregon Department of Education."
Cole also claimed that parents are given a syllabus at the beginning of each school year and could have chosen to opt their children out of the classwork.
Peter Rudy, a spokesperson for the Oregon Department of Education, told Oregon Live that the curriculum is not on their recommended list for the state.
"Alongside their local community, educators, and adolescent health experts, school districts decide what curriculum to use to meet Oregon standards and legal requirements," Rudy said.