An Oklahoma man has pleaded guilty to stalking and threatening to murder Republican Rep. Kevin Hern and his family.
Keith Eisenberger, 39, had made multiple threats to the lawmaker over the phone and in person at both his Oklahoma and DC offices over the years.
In May, Eisenberger posted on social media that he was planning to kidnap and kill the lawmaker and his wife, Tammy Hern.
Rep. Hern was appointed by Oklahoma Governor Kevin Stitt to succeed former Rep. Jim Bridenstine after he resigned to take a position at NASA. According to DOJ, Eisenberger believed that Rep. Hern had "stolen" the seat and that he should have been the one appointed.
In 2019, he bought a one way ticket to DC and showed up at the congressman's office shouting and demanding to see him. Eisenberger told Capitol Police that he would not go back to Oklahoma until the lawmaker resigned and would be sleeping outside the White House.
In a post on election night, November 4, 2020, Eistenberger wrote that he was driving to Tulsa for watch parties and that the police needed to "keep Kevin Hern & his family out of my sight. If I get upset; you'll have to shoot me to get me off them."

Five days later, Eisenberger posted on Facebook calling for Rep. Hern's execution.
"Kevin Hern and the State of Oklahoma deserve a final consequence of U.S. justice served that leads them to an end by federal execution," Eisenberger wrote on Facebook in November 2020, according to the criminal complaint.
In October, 2021, Eisenberger posted a video to Facebook saying that he was planning to assault the congressman at a public event and that there would be "blood everywhere."
In May, 2022, the rhetoric escalated and Eisenberger began to threaten the lawmakers family. He posted the name of the street that they live on and referred to Tammy Hern as a "terrorist," saying that he hoped to drag her and her husband from their beds in the middle of the night.
"May the God I invoke bring sudden cardiac seizing blessings upon Tammy Hern and her Hern children," Eisenberger wrote.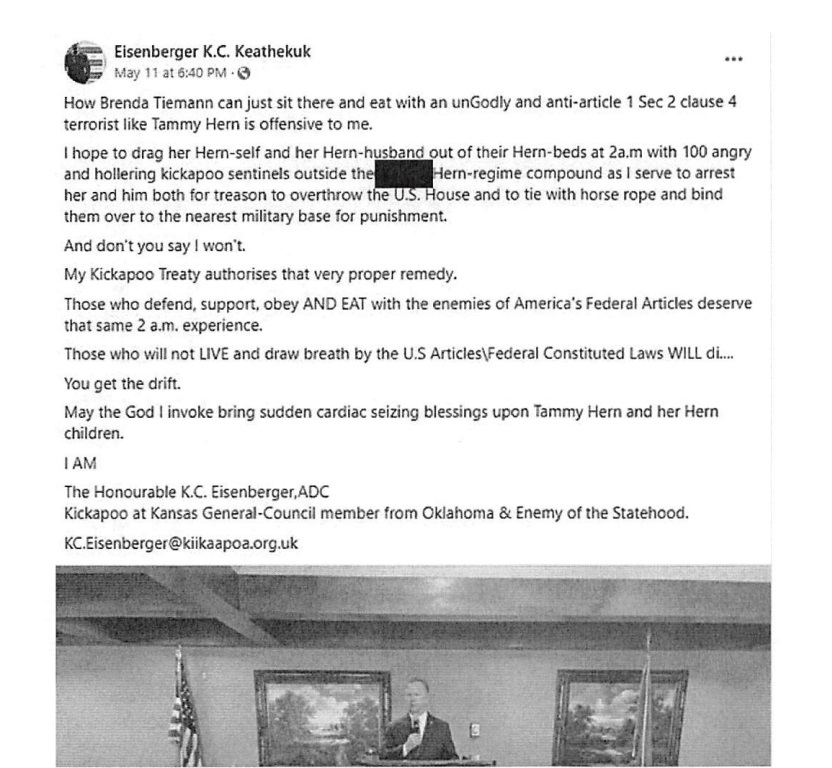 Eisenberger was charged with threatening to assault, kidnap, or murder a United States official; threatening to assault, kidnap, or murder an immediate family member of a United States official, and cyberstalking later that month.
On August 10, 2022, Eisenberger entered a plea agreement, pleading guilty to cyberstalking as well as the threats to kidnap and kill the Herns.
The agreement suggests a three year prison sentence for the crimes, though that will ultimately be up to a judge to decide.
"The U.S. Attorney's Office and our law enforcement partners will not tolerate online threats of violence meant to intimidate elected officials or members of our community," U.S. Attorney Clint Johnson said in a statement. "Keith Eisenberger now understands there are legal repercussions to committing these criminal acts."