By Cassandra Fairbanks
An unarmed off-duty New York City police officer was brutally attacked by at least three men at 11:40 a.m. on Monday outside a deli in the Bronx.
Law enforcement released video of the attack on Monday evening to seek the public's help identifying the individuals involved. There were at least six people in the group, though it is unclear how many actually participated in the violent assault. Only a portion of the footage has been made public.
Witnesses say that the officer got into a verbal altercation with the group prior to the attack, and police have said the incident was not random. According to a report from ABC7, an NYPD official revealed that the off-duty cop apparently knows at least one of the suspects.
In the video, the group of men are seen surrounding the officer before one of them shoves him in the chest. The video then skips to images of one of the men hitting him with a blue wooden stick, which police have said is a broomstick.
The New York Post report reports that he was also hit with a baseball bat, but that is not shown in the footage that was released.
"It's very much under investigation by the detective squad from the 41st precinct, and I'm also having the Internal Affairs Bureau looking at the entire incident to make sure there was nothing that shouldn't be happening there with our officers," Police Commissioner Dermot Shea told ABC 7 New York.
No arrests have been made at this time. NYPD Crime Stoppers are seeking information about the following three individuals: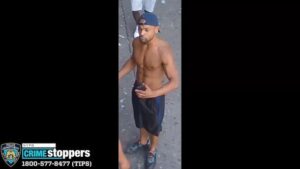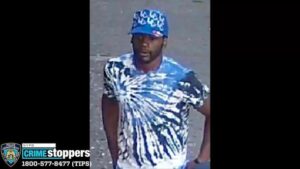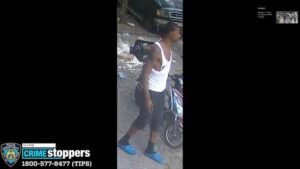 The officer was taken to Jacobi Medical Center and is reportedly conscious and alert.
For corrections, please email [email protected]