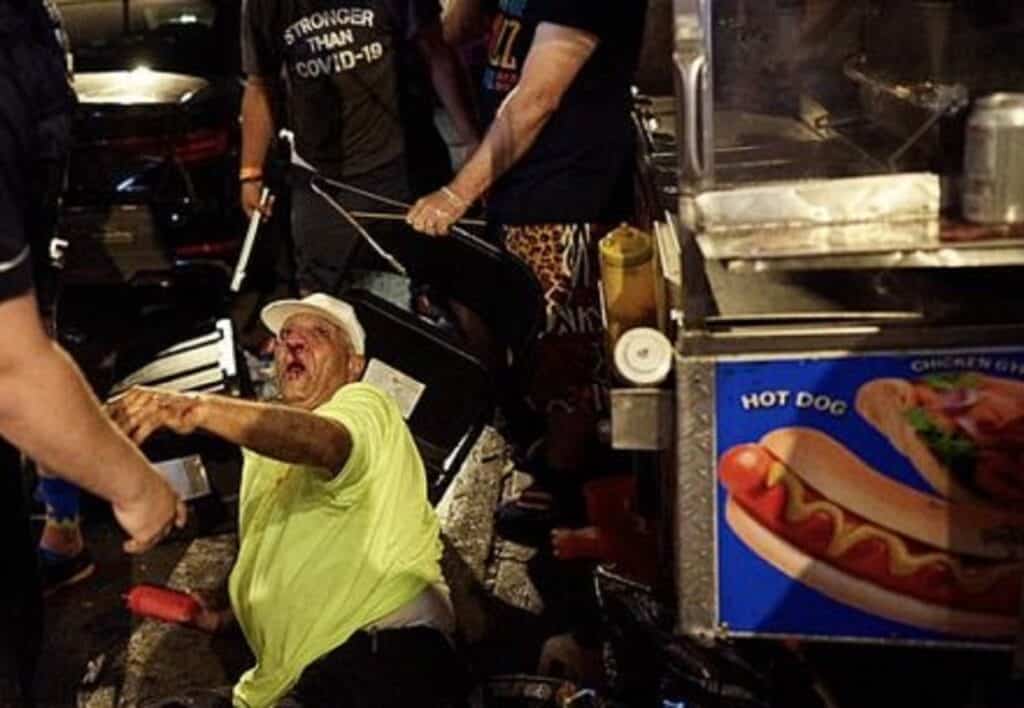 By Cassandra Fairbanks
New York City's Pride festivities devolved into chaos and violence on Sunday evening, as attendees clashed with police and left an elderly hot dog vendor bloodied and injured.
The attackers claimed that the vender had used a "slur" to justified multiple people assaulting him. It is unclear what the slur allegedly was, or if it actually happened.
"An elderly hot dog seller in the city's embattled Washington Square Park had a busted lip, bloody nose and was seen bleeding from his head after being punched in the face several times by a woman," the Daily Mail reports. "The man was seen standing next to his food cart when he was suddenly caught off-guard, punched in the head and nearly knocked off his feet."
As the vendor attempted to run away, he was chased by a mob of people until police intervened and surrounded him.
NYC; New York City's Pride celebrations turned violent after brutal attack on an elderly food vendor in Washington Square Park Sunday night. Skirmishes with police trying to re-enforce order using pepper spraying & mace of cops . pic.twitter.com/z687r3gJNo

— @KassMedefer (@KMedefer) June 28, 2021
Revelers attack elderly food vendor in Washington Square Park as peaceful Pride celebrations turn violent in NYC's new crime hotspot#USA @ViralPosts5 #Washington @Breaking911 @DashCamTwats pic.twitter.com/cngglErQvn

— Rajendra K (ABP Network) (@RajendraKadamb) June 28, 2021
Rioters at a NYC Pride event assaulted a food cart vendor. He (neon green shirt) was left bloodied on the ground.
I bet they were chanting "Love Trumps Hate" moments before the attack. pic.twitter.com/5Jqc6WAKwf

— rightwingsavages (@rtwngsavages) June 28, 2021
Police also had to deploy pepper spray earlier in the evening after the crowd attempted to breech metal barricades around the Greenwich Village park.
This is the view in Washington Square Park. The NYPD has blocked off 5th Ave pic.twitter.com/dJtpfhjN4x

— Mattie B 🏳️‍🌈 (@stoodle) June 27, 2021
There's talk of mace happening right now at Washington Square Park. There is a sea of cops here. pic.twitter.com/sxPqvA0dKM

— Christine Chung (@chrisychung) June 27, 2021
Tensions were already high between NYC Pride and the New York Police Department, as members of law enforcement were banned from participating in their parade until at least 2025.
At least eight people were arrested during the chaos.
"A 23-year-old woman allegedly threw a water bottle at police and bit a lieutenant; a 20-year-old woman allegedly threw water at police. They were arrested for assault, criminal possession of a weapon and resisting arrest, police said," PIX 11 reports. "Additionally, a 29-year-old man and 30-year-old man allegedly slapped lieutenants, officials said. They were given desk appearance tickets and charged with obstructing governmental administration and resisting arrest, the NYPD said."
Pride marches became an annual event in 1970 to commemorate the 1969 Stonewall uprising, which started after a police raid on a Manhattan gay bar.
For corrections, please email [email protected]