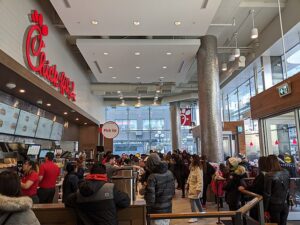 By Hannah Claire Brimelow
New York lawmakers are seeking to block Chick-fil-A from rest stops in the state.
The New York State Thruway Authority has approved a $300 Million plan to upgrade 27 rest stops along the "570-mile superhighway system," according to a report from the Democrat & Chronicle in May.
At the time, the food operators intended for the locations had not been announced. Drawings of the future plazas had names like "Burger Tenant" and "Fresh Tenant" in lieu of brand names.
Lawmakers in the state balked at an announcement that Chick-fil-A will be one of the vendors included in the service stations.
Assembly member Linda Rosenthal stated "New York State has long stood on the right side of history and supported the LGBTQ+ community, but this decision flies in the face of our progressive values and will undermine the progress we have worked to achieve" and demanded the Authority drop the popular chicken chain.
The chain restaurant  became a symbol of conservative culture for many Democrats after reports of the company's donations to Christian organizations and that its CEO Dan Cathy donated to the National Christian Charitable Foundation (NCF).
"Chick-fil-A is excited about the partnership and the opportunity to further serve the residents of New York. We want to be clear that Chick-fil-A does not have a political or social agenda, and we welcome everyone in our restaurants," Chick-fil-A told Business Insider.
New York is not the only place where the company is controversial. A group of students and faculty from Catholic university Notre Dame wrote an open letter to the schools Dining Division opposing the opening of an on-campus Chick-fil-A location. The authors of the letters denounced the company for "donating millions to 'queerphobic groups,' which they said include the nonprofit Fellowship of Christian Athletes" in addition to claiming Dan Cathy's personal donations help organizations that 'funds hate groups.'"
According to Fox News, "Chick-fil-A was founded in Georgia in 1946 and since then has been closed on Sundays because its founder, Truett Cathy, refused to force his employees to miss a day of rest and worship.
The company has stopped supporting several nonprofits since 2012 because of the backlash to its charitable contributions. This includes the Fellowship of Christian Athlete and the Salvation Army as of 2019.
Senator Lindsay Graham denounced New York Democrats for targeting Chick-fil-A. On Facebook, he wrote "If such a disastrous move ever came about – banning a commercial business due to them expressing their First Amendment rights – it would set a horrible precedent. It would also be ferociously opposed by many Members of Congress, including me."
For corrections, please email [email protected]