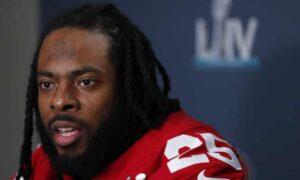 By Hannah Claire Brimelow
NFL corner back Richard Sherman was arrested today on burglary domestic violence charges shortly before 6 A.M. this morning in Washington.
"Police were called at around 2 a.m. after an unidentified person in the residence said an adult male family member was attempting to force his way into a residence where he did not live. Police arrived and struggled with the suspect who reportedly fought with police before being taken into custody. Nobody was injured," according to a statement from the Redmond Police Department.
Sherman is simultaneously under investigation for his involvement in a hit-and-run. The state's Department of Transportation says a vehicle involved in a single-car crash early Wednesday morning was found abandoned but when law enforcement ran the car's registration it came back to Sherman.
According to ESPN,  the 33-year-old "completed his third season with the San Francisco 49ers in 2020 after spending the first seven seasons of his career with the Seattle Seahawks. Sherman also is a vice president of the NFL Players Association's executive committee."
The National Football League has chronically struggled to domestic violence.
In August 2014, NFL Commissioner Roger Goodell wrote, in a letter to team owners, "Effective immediately violations of the Personal Conduct Policy regarding assault, battery, domestic violence or sexual assault that involve physical force will be subject to a suspension without pay of six games for a first offense, with consideration given to mitigating factors, as well as a longer suspension when circumstances warrant."
A second domestic violence offense violation would result in a lifetime ban.
Three-days later, San Francisco 49ers' starting defensive end Ray McDonald was arrested for allegedly attacking his girlfriend, Kendra Scott. He was never suspended.
Months early, in February, Ray Rice was indicted after hitting his fiancée so hard she was knocked unconscious. Security footage showed him dragging her body out on an elevator at the Atlantic City Casino. Rice, a running back for the Baltimore Ravens at the time, received a two-game suspension.
Time noted at the time that Goodell had promised that the NFL would take a serious stand on domestic violence in in 2012.
According to Ranker, over 90 NFL players are known to have been arrested on domestic violence. The National Domestic Violence Hotline's website praises the NFL for its "multi-million dollar, multi-year commitment" but the exact amount of financial support they provide is not publicly available.
In June of 2020, the NFL announced it would donate $250 million dollars to " combat systemic racism and support the battle against injustices faced by African Americans," according to NFL.com
The NFL has not said what consequences Sherman, who is currently a free agent, will face.
For corrections, please email [email protected]