New data from the Guttmacher Institute shows that abortions have
increased
nationally for the first time in 30 years.
Key findings from Guttmacher's latest Abortion Provider Census show that between the years 2017 and 2020 abortions increased eight percent nationally (from 862,320 to 930,160). The abortion ratio, which is the number of abortions per 100 pregnancies, increased 12 percent.
Among women aged 15-44, abortions increased seven percent. The data also show that in 2020, one in five pregnancies ended in abortion. 
Overall, the number of abortions increased in all four regions of the country (Northeast, Midwest, West and South). Alongside the increase in abortions, there was a six percent decline in births.
The institute found that while the trend increased nationally, there were trend variations across individual states and no clear patterns as to why some experienced increases or decreases.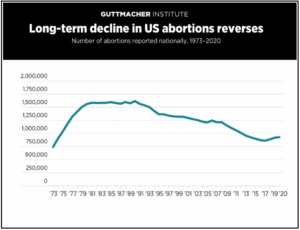 "In some states—including Illinois, Mississippi and Oklahoma—there were substantial increases in the number of abortions. In others—such as Missouri, Oregon and South Dakota—there were substantially fewer abortions in 2020 compared with 2017," the report noted.
It also spelled out some policy changes that may have had an impact on specific state numbers.
In New York, there was a six percent decline in abortions between 2019 and 2020. But, during 2020, at least 10 percent of clinics in the state reported that they had either paused abortion care or stopped provided it altogether due to the pandemic.
Illinois saw a large increase (24 percent) between 2017 and 2019. That coincided with people emigrating from surrounding states and Illinois allowing the use of state Medicaid funds to pay for abortions beginning in January 2018.
In Missouri, the number decreased substantially in 2020 because larger numbers of  state residents started traveling to Illinois for abortion procedures, according to the institute's report.
In Texas, the number of abortions increased 7 percent between 2017 and 2019, but dropped two percent between 2019 and 2020. The institute says the "state's near-total ban on abortion provision as part of broader COVID-19 restrictions" was likely to blame.
The report also noted developments during the 2017 to 2020 data collection period that may have had differential impacts across states.
Some states expanded Medicaid coverage of abortion care, meaning it became an option for those who may not have previously been able to afford it. During the time period reviewed by the study, 25 states enacted 168 abortion restrictions and bans.
The release of the report comes amid an upcoming decision by the United States Supreme Court, which could potentially reverse the decades old ruling in Roe v. Wade.
A draft opinion was recently leaked showing justices were ready to overturn Roe v. Wade, which sparked protests nationwide.
If the Supreme Court does strike down Roe v. Wade, abortion will not automatically become illegal nationwide: the issue falls back to the states to legislate.