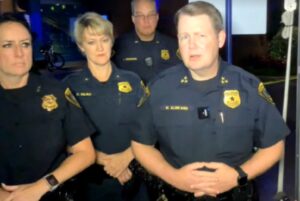 By Hannah Claire Brimelow
A seemingly random man and woman having dinner at the Downtown Aquarium in Houston were shot on Thursday evening when a man opened fire — and then killed himself.
The woman was injured but is now in stable condition. The man was pronounced dead at the scene.
At approximately 8:10 PM, the presumed couple was at the bar in the aquarium's restaurant when the perpetrator walked around the other end of the bar.
"Houston Police Executive Chief Matt Slinkard said video footage of the incident showed that the man and the woman were finishing a meal and getting ready to close out a tab when the suspect approached and began shooting," reports the Dallas Morning News. There is no immediate evidence of a connection between the victims and the shooter.
The Houston Police posted a video of Chief Slinkard's statement to the media at 11 P.M.
Executive Chief @MattSlinkard Media Briefing on Fatal Shooting at 410 Bagby Street https://t.co/sWKshmc1BL

— Houston Police (@houstonpolice) July 9, 2021
"This is a horribly, tragic incident," Slinkard said. "This is the type of situation that should make us all pause."
Information is limited at this time. Police have not said how many people were at the restaurant when the shooting occurred. They have indicated there is video footage. No information regarding the type of gun or any identifying details regarding the suspect have been made public.
One witness was there with her two children and told Fox 26 that multiple shots were fired during the incident.
Just 9.9% of murders were committed by strangers in 2019. In comparison, "28.3 percent of homicide victims were killed by someone they knew other than family members (acquaintance, neighbor, friend, boyfriend, etc.)" and  "13.0 percent were slain by family members," according to the Federal Bureau of Investigations' Uniform Crime Reporting.
The Houston facility is an aquarium restaurant hybrid. It has a Ferris wheel, an aquatic carousel, Shark Voyage, a white tiger exhibit in addition to its restaurant.
For corrections, please email [email protected]