Former governor of Missouri and current senate candidate Eric Greitens released a new ad on Monday that was almost immediately censored on both Facebook and Twitter.
The 38 second video declares "open season" on RINO (Republican in Name Only) hunting.
"Today, we're going RINO hunting," Greitens explains in the ad. "The RINO feeds on corruption, and is marked by the stripes of cowardice."
The dramatic and tongue-in-cheek video culminates in Greitens, a former Navy Seal, storming a house looking for RINOs to hunt.
"Join the MAGA crew, get a RINO hunting permit. There's no bagging limit, no tagging limit, and it doesn't expire til' we save our country," Greitens says.
The ad was pulled by Facebook for "violating our policies prohibiting violence and incitement."
Twitter left the ad up after deciding it was of "public's interest," but hid it behind a warning box explaining that it violated their "abusive behavior" policy. The company turned off the retweet feature to prevent the ad from being shared.
"This Tweet violated the Twitter Rules about abusive behavior. However, Twitter has determined that it may be in the public's interest for the Tweet to remain accessible," the warning box reads. It remains visible even when you click through to view the video.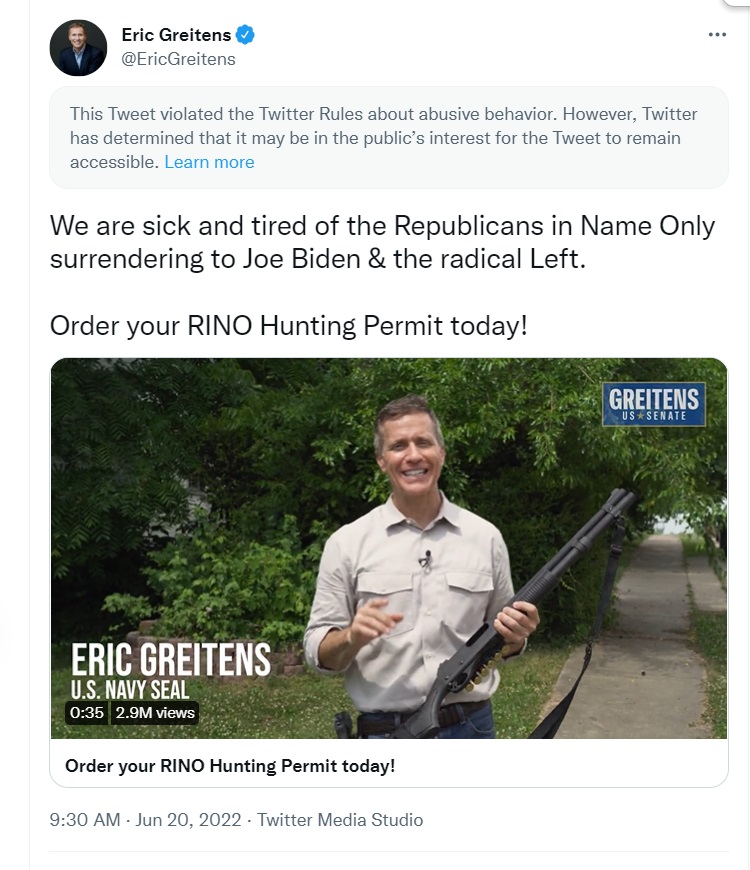 Speaking to Timcast, Greitens said that the response to the ad from America First voters has been "overwhelming and supportive."
"The response from America First voters to our groundbreaking ad has been overwhelming and supportive," Greitens told Timcast.
Greitans also had harsh words for those who took issue with the video.
"Those who have an issue with the video and the metaphor are either lying or dumb. We believe Big Tech and its oligarchs are both," Greitens said.
The candidate is also giving away "RINO hunting" permit stickers when you donate to his campaign through his website.
— Eric Greitens (@EricGreitens) June 20, 2022
According to his website, Greitens served as a United States Navy SEAL officer and deployed four times during the Global War on Terrorism to Afghanistan, Southeast Asia, the Horn of Africa, and Iraq. He served as the Commander of a Mark V Special Operations Craft Detachment, Commander of a Joint Special Operations Task Unit, and as Commander of an al Qaeda Targeting Cell.
"A conservative and a political outsider, Greitens was elected Governor of Missouri in 2016. He championed support for police officers, fire fighters, first responders, and veterans; ended lobbyist gifts, killed a pay raise for politicians, cut taxes, eliminated burdensome regulations, zeroed out corrupt insider tax credit schemes, and promoted the well-being of foster children and foster families. For his work as Governor, he was inducted into the American Academy of Achievement," Greitens biography states.