The Michigan Air National Guard has yanked down a social media post saying that they will not share Juneteenth with Father's Day, which fell on the same day this year.
The post sparked massive controversy online before the Guard announced that it "fell short of their standards" and took it down.
"While we know Juneteenth is on the 19th of June, it deserves a whole day to itself. Sorry. Not sorry Dads, We aren't sharing this holiday," the post stated. "Happy Juneteenth 110th Wing members, families and friends. Let's come together to enjoy this day and reflect on the strides in humanity the world has made. Let's work towards a more open inclusive world, as this is an ongoing human process."
The page later posted a message saying, "Happy Fathers Day all the fathers, grandfathers, pseudo dads and bonus dads out there. We appreciate all the effort in addition to the hard work you do. Enjoy your day! #dadsday #fathersday #pops #gpa #daddy #daddio."
A day later, the Juneteenth post was gone and the base announced that they would be "taking action to ensure this doesn't happen again."
"The 110th Wing regrets the post on social media related to the Father's Day and Juneteenth holiday that fell short of our standards," the 110th Wing, Battle Creek Air National Guard Base said in a Facebook post the following day. "The post has been removed and we are taking action to ensure this doesn't happen again."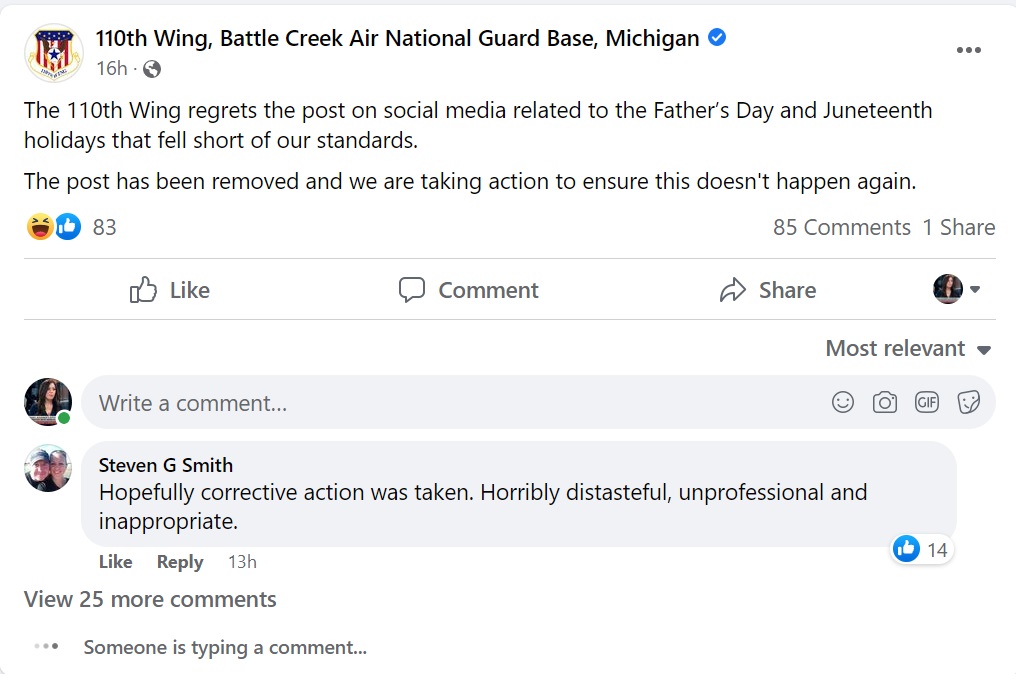 The replies were flooded with calls for the person responsible to be disciplined for the post. The vast majority agreed that it was "unprofessional" or "distasteful."
"Those involved should be removed from service and given an other than honorable discharge. They are in the military and must follow the code of conduct as everyone that has ever served," Richard Dudock wrote.
A commenter named Steven G. Smith added, "Hopefully corrective action was taken. Horribly distasteful, unprofessional and inappropriate."
"It would be fitting for the airman that posted that distasteful and inappropriate post to offer a very public apology. Very unprofessional!!" Timothy Farley wrote.
Kyle D. Kandrach wrote, "a simple happy Juneteenth would've sufficed."
Many of the responses focused on the fact that the post would have been a massive scandal if it had been the other way around and celebrated Father's Day instead of Juneteenth.
It is unclear what action was taken to "ensure this doesn't happen again." Timcast has reached out seeking clarification and will update this post if a response is provided.