A man armed with a fake gun hijacked an MTA bus in Queens and crashed it into a utility pole on Thursday morning.
The incident took place near Linden Boulevard and 197th Street at around 7:30 a.m.
New: @CBSNewYork obtained video of the moment a man ran in front of an MTA bus in Queens and then hijacked it. Police say he waved what looked like a gun (NYPD now believes it's a BB gun). You can see terrified passengers running off the bus. pic.twitter.com/1l27EX7P9G

— Tim McNicholas (@TimMcNicholas) October 28, 2022
The driver opened all of the doors on the bus to allow roughly two dozen passengers to get off — leaving just him and the hijacker.
A bus driver was forced to leap from his window after an MTA bus was hijacked in Queens.

This is Democrat Kathy Hochul's New York! pic.twitter.com/l2wYT9viYR

— RNC Research (@RNCResearch) October 27, 2022
"Cops said the hijacker made statements about being chased and ordered the driver to keep driving. He did, for another 30 or so blocks, cops said," NBC News reports. "Once the bus neared 232nd Street and Linden Boulevard, the driver jumped out of the driver's side window and the hijacker leaped into the driver's seat. He grabbed the wheel and started driving, officials said."
The 44-year-old hijacker, who has not been publicly identified, drove the bus for about a block before crashing into the pole.
Following the crash, which left the bus crushed under the pole, the hijacker got off the bus and was taken into custody.
Security camera footage captured a man with a fake gun who hijacked a New York City bus. Police say the driver was able to get passengers off the bus and the hijacker is under arrest. pic.twitter.com/3RIRm5f3wn

— CBS Evening News (@CBSEveningNews) October 27, 2022
The bus driver and hijacker were both transported to a hospital to be treated for minor injuries. Nobody else was injured in the incident.
"A top MTA official said the agency was thankful no one was seriously hurt in the chaos and said the bus driver had been with the MTA for 21 years. He was said to be at the hospital with MTA management and union representatives into the early afternoon hours. No details on the nature of his injuries were immediately available," the NBC report said.
Though no other injuries were reported, the downed pole triggered power outages throughout the area.
Police said that the weapon used to take control of the bus appeared to be a BB gun, which the department released a photo of.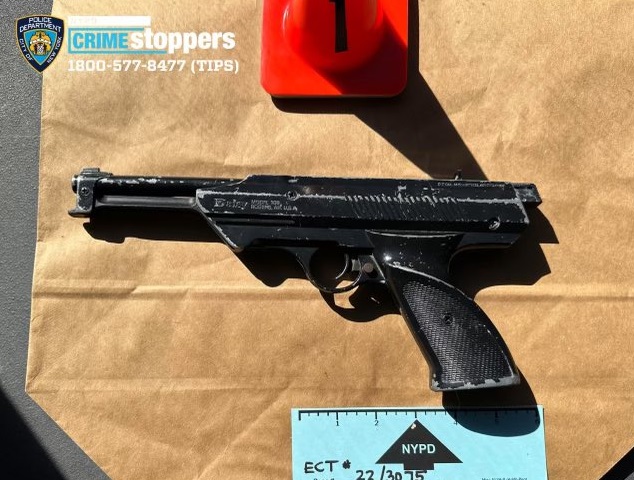 The investigation into the incident remains ongoing.
Anyone who was on the bus or has additional information is being asked to call Crime Stoppers at 1-800-577-TIPS.