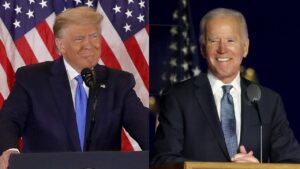 By Cassandra Fairbanks
A new poll reveals that the majority of Republican voters believe that Joe Biden won the election by cheating.
The Hill-HarrisX poll, conducted from June 24-25, found that 56 percent of Republicans voters believe that Biden won thanks to voter fraud.
Only 25 percent of GOP voters believe that Biden won fairly and 19 percent remain unsure.
Across the aisle, the Hill reports that "eighty-eight percent of Democrats said Biden won fairly while 5 percent said voter fraud and 7 percent said unsure."
"Half of independents said Biden won fairly while 20 percent said he won through election tampering and 31 percent said they are unsure," the report on their findings continued.
Overall, fifty-five percent of voters that the pollsters surveyed said that they believe Biden won fairly, 27 percent said he won by voter fraud, and 18 percent said that they are unsure.
A similar survey conducted by Quinnipiac in May had even higher results, with two-thirds of Republicans saying they think that Joe Biden's victory was not legitimate.
"The numbers fly in the face of any predictions that Donald Trump's political future is in decline. By a substantial majority, Republicans: (1) believe the election was stolen from him, (2) want Trump to run again, and (3), if they can't vote for Trump, prefer someone who agrees with him," Quinnipiac University Polling Analyst Tim Malloy said of their results.
Yet another survey on the same topic from Monmouth University, which was released on Monday, found that 32 percent of all Americans, regardless of party, believe that Biden won because of voter fraud.
"Monmouth asked Americans the same question about the legitimacy of 2020's results in March, January and November. Just after the November election was declared in Biden's favor, 60 percent of respondents said they thought he won 'fair and square,' while 32 percent chalked the win up to 'voter fraud.' In January, 65 percent agreed Biden's win was fair, while 62 percent did in March," Newsweek reports.
Monmouth also noted that 14 percent of Americans say they will never accept Biden as president, including 29 percent of Republicans and those identified as Republican leaners.
A previous poll from Hill-HarrisX found that 30 percent of Republican voters believe former President Trump will "likely" be reinstated to office this year.
For corrections, please email [email protected]