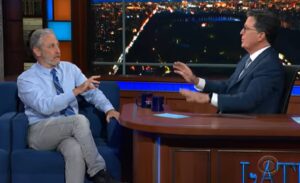 By Cassandra Fairbanks
Monday evening's episode of Stephen Colbert's A Late Show caused fireworks across social media, as his guest Jon Stewart mocked people who wrote off the possibility that COVID-19 originated in a Wuhan lab.
The episode was Colbert's first time hosting the show before a live studio audience since the start of the pandemic, and everyone in the audience was required to be fully vaccinated.
The interview began lightheartedly, as Stewart joked about how people did not properly care for themselves during the pandemic.
"I am so really happy!" Stewart said. "And I know we're all vaccinated and I'm not going to get COVID, but I'm going to get something. These people did not take good care of themselves during the pandemic."
The interview took a turn when Colbert asked Stewart for his feelings on the scientific response to COVID.
"So, I will say this—and I honestly mean this—I think we owe a great debt of gratitude to science. Science has, in many ways, helped ease the suffering of this pandemic, which was more than likely caused by science."
Looking a bit stunned, Colbert asked if he meant "there's a chance that this was created in a lab?"
"A chance?" Stewart asked. "Oh my god, there's a novel respiratory coronavirus overtaking Wuhan, China, what do we do? Oh, you know who we could ask? The Wuhan novel respiratory coronavirus lab. The disease is the same name as the lab. That's just a little too weird!"
Stewart went on to mock the alternate theories about how the outbreak began.
 "Uhh, a pangolin kissed a turtle?" Stewart remarked.
Alternatively, he joked, "maybe a bat flew into the cloaca of a turkey and then it sneezed into my chili and now we all have coronavirus?"
Colbert tried multiple times to take back control of the conversation, to no avail.
Instead, Stewart went on to offer an analogy.
"There's been an outbreak of chocolatey goodness near Hershey, Pennsylvania, what do you think happened? I don't know, maybe a steam shovel made it with a cocoa bean. Or it's the f-cking chocolate factory!" Stewart said.
Colbert pushed back on Stewart's take, arguing that "it could be possible that they have the lab in Wuhan to study the novel coronavirus diseases because in Wuhan there are a lot of coronavirus diseases because of the bat population there."
Stewart continued to mock the official narratives and explanations, before Colbert finally interjected asking "how long have you worked for Senator Ron Johnson?"
"This is not a conspiracy!" Stewart insisted. "But this is the problem with science. Science is incredible, but they don't know when to stop and no one in the room with those cats ever goes, 'I don't know if we should do that.' They're like, 'curiosity killed the cat, so let's kill 10,000 cats to find out why.'"
Finally, Stewart walked to the edge of the set and spoke directly into the camera.
"I have been alone so long. And when I realized that the laboratory was having the same name—first name and last name—of the evil that had been plaguing us, I thought to myself, that's f-cked up."
Stewart did not let up even after the commercial break, adding, "can I say this about scientists? I love them and they do such good work but they are going to kill us all."
The explosive segment immediately went viral, with people on the right cheering for Stewart — and the left expressing disappointment in some cases, and extreme anger in others.
"Online leftists seem Big Mad at Jon Stewart for treating the lab leak theory as verrrry plausible (of course it is) on Colbert tonight. They're deeply committed to the 'conspiracy theory' line & notion that thinking/speaking critically about CCP puts Asian Americans in danger," Townhall's Republican political editor Guy Benson remarked.
Meanwhile, leftist Canadaland editor Jonathan Goldsbie tweeted, "on the first Late Show back with a full audience, Jon Stewart dives intensely down the COVID lab-leak rabbit hole, rebuffing Colbert's repeated efforts to save him from himself."
"US Intelligence. The Secretary of State.  Officials at NIH. Us Senators. A president – All crazy conspiracy theorists," Spectator contributor Stephen L. Miller wrote. "Jon Stewart – Sh-t now we have to believe the lab leak."
For corrections, please email [email protected]