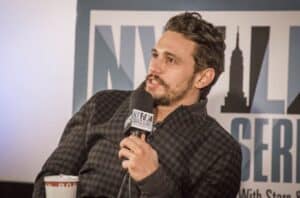 By Hannah Claire Brimelow
Actor James Franco will pay $2,235,000 to settle a sexual misconduct lawsuit from October 2019.
Court documents show two of Franco's acting students – Sarah Tither-Kaplan and Toni Gaal – claim
Franco and his business associates "engaged in widespread inappropriate and sexually charged behavior
towards female students by sexualizing their power as a teacher and an employer by dangling the
opportunity for roles in their projects."
Named alongside Franco are Vince Jolivette, Jay Davis, and Jolivette and Franco's production company, Rabbit Bandini.
Franco, 43, ran the Playhouse West Studio 4 in North Hollywood from 2014 until its closing in 2017. 
Tither-Kaplan and Gaal described the business as "a scam acting school."
In the suit, they detailed the many instances of alleged misconduct. The women said that "for up to $2,000 each, students might sign up for a master class, and included $750 for a master class in sex scenes," Newsweek reported in fall of 2019. "The suit alleges students signing up for the sex scene class had to audition on tape "so that Franco could later review the material," and sign away their rights to the recording."
The "Freaks and Geeks" actor was at one time intensely popular in Hollywood. His 2001 portrayal of James Dean for an eponymously titled TV biopic ear the actor a Golden Globe and an Emmy nomination. Franco was nominated for Best Actor Oscar for his performance "127 Hours" in 2010.
However, Franco made an increasing number of odd professional and personal choices in more recent years and fell out of favor with many members of his industry. He took a role on General Hospital. He briefly became a painter and was met with criticism immediately. Most notoriously, he took a selfie with a 17-year-old girl outside a Broadway Theater while starring in "Of Mice and Men" and then DM'd her and offered to rent her a hotel room.
While Franco said he was unaware of her age, he also told Howard Stern "I'm not going to high schools looking for dates. I'm leaving my work, and they're coming there! . . . And look, my fan base is, like, 17-year-old girls."
Franco initially denied the allegations made by his former students when they became public. He told Steven Colbert "Look, in my life I pride myself on taking responsibility for things that I have done." 
"I have to do that to maintain my well-being. The things that I heard that were on Twitter are not accurate. But I completely support people coming out and being able to have a voice because they didn't have a voice for so long. So I don't want to shut them down in any way."
Entertainment Weekly reports, "of the $2,235,000 in the settlement, $894,000 would go to the named plaintiffs, and $1,341,000 would go into a common fund for the rest of the members of the class action. Tither-Kaplan would receive $670,500, and Gaal would receive $223,500 — both minus attorney fees."
For corrections, please email [email protected]