Graphic novel and upcoming video game Moonray features an
archetypal hero story as the unnamed main character explores culture and humanity in a futuristic post-human world. 
Moonray, written and drawn by Brandon Graham and fellow artist by Xurxo G. Penalta, takes place in the post-human world of IT-AO.
The reader follows Moonray's unnamed hero made of Miium, the perpetually creating base material of the gods' physical bodies and minds. The main character, later named Adam, navigates IT-AO with a mission to avenge the fallen goddess-mother Iltar.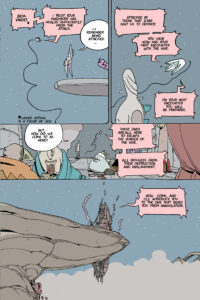 Accompanying Adam are several friends including a faceless crystal which guides him through IT-AO, along with an unnamed half-man malformed heathen who saves his life on several occasions. Adam is also joined by a sword born from the corpse of a dead God who later becomes a sentient woman.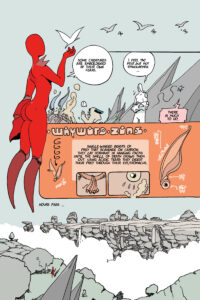 Graham and Penalta's surrealistic art style and pastel color pallet transports Moonray's readers into the post-human world of IT-AO while Graham's story touches on survival, companionship, and independence in a multi-cultural post-human world.
Moonray's story makes biblical references to the book of Genesis as Adam takes a bite from an apple on a nearby tree after narrowly avoiding death.
"The Goddess Iltar needs us to be strong in her name," the faceless crystal tells Adam.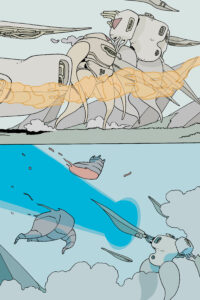 Moonray's video game is currently still in development and is scheduled for an early 2024 release, though the graphic novel will be available for purchase on Oct. 31.
The upcoming game adaptation, released through Epic Games, is a multiplayer arena game and will feature intense hand-to-hand melee and ranged combat set in the world of IT-AO.
check your local comic shop, Moonray Book 1 is out! 😍 pic.twitter.com/8GSkYYSR9W

— Moonray.game (@moonraygame) October 18, 2023
Timcast News spoke with author Graham about Moonray's upcoming release.
Moonray's first book, "Mother's Skin," is an exploratory narrative showing Adam coming into his existence and feeling out his way in the world, Graham said. "Mother's Skin" is the first of what will be at least a six-book series in which Graham plans to explore other planets and dimensions.
"Many of the characters in Moonray are the remnants of human civilization," he added. "So, we're using weird science fiction to explore different ways people can live their lives and show what survives of us in a post human universe."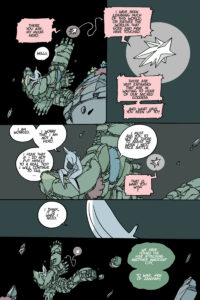 Moonray showcases what can be described as a feudal system in which smaller towns and cities fall to the looming threat of a hive mind cult in the world of IT-AO.
As far as political and social undertones in modern entertainment, author Graham believes there is a duality between positive and negative effects of politically injected entertainment.
"It seems like we're always in a push pull with creative freedom and the place of entertainment in people's lives," he said. "I think it's important for artists to have things to say in their work."
"I think I would be less inclined to explore different ways to think if we were in a less divisive time," Graham said.
"A lot of what I try to do is find a way to show the emotions of a real-life situation but through more fantastic devices," Graham added. "Art can be an amazing tool to get people to connect with other cultures and experiences."
Graham believes one of the problems with modern political and social undertones in entertainment is what appears to be a lack of craft.
"No one wants to be scolded by people who aren't good at what they do," he said. "But if you look at the widespread love of hip-hop, or the popularity of Japanese Anime, I think that shows how open to different ideas people can be if presented in an appealing way."
Graham said Moonray attempts to avoid "dumbed down good versus evil" tropes, though eventually will explore different philosophies from the point of view of creatures within the world of IT-AO who believe in "radically different ideologies."
Moonray's story will also build out the world of IT-AO into other characters with other creative teams at the helm.
"I've been writing a backup story line in the Moonray books, beautifully drawn by my friend Xurxo G. Penalta, following a hunter who becomes hunted himself," Graham said. "Kind of a more classic western story line but still set in the distant future."
Graham said the Moonray team wants to bring in "different creative teams" to tell "many different types" of stories set in IT-AO.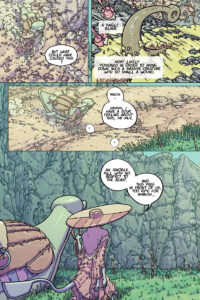 The idea for Moonray's companion video game release came from Rodrigo Etcheto, who serves as the founder and CEO of Moonray PBC which is developing the upcoming game.
"He was familiar with the PROPHET series that I was heading at Image comics and brought me on the flesh out the story and world," Graham said of Etcheto.
Graham cited painter Wayne Douglas Barlowe as inspiration for the idea of Moonray's story.
"He has a series of paintings and books about the history of hell with human souls used as the only building material," Graham said of Barlowe. "Also the work of Fil Barlow (unrelated to the 0ther Barlowe) whose 1980s comic series Zooniverse is about a race of plastic warriors who never die because they don't biodegrade."
Graham also cited comic book writer and artist Matt Howarth's work in the 1980s as a big inspiration for Moonray.
"He did a lot of experimental work that still maintained a relatability to it," he said, citing Howarth's series, Konny and Czu, which follows two alien criminals, one of which is three floating rocks while the other is a centipede.
Larger plans for Moonray's future extend beyond the upcoming video game into an animated series and table-top game.
Correction: An earlier version of this article attributed Graham solely as the author and did not credit his work as an artist for Moonray. The story has been updated to clarify both Graham and Penalta provided art for the graphic novel.