The Federal Bureau of Investigation is offering $25,000 rewards for information on a series of attacks at anti-abortion pregnancy centers.
A militant pro-abortion group called Jane's Revenge has urged and taken credit for many of these attacks — which have included vandalism, arson, and threats of violence.
The anonymous movement became active after a leaked draft opinion revealed that the Supreme Court was going to overturn Roe v. Wade.
"Today's announcement reflects the FBI's commitment to vigorously pursue investigations into crimes against pregnancy resource centers, faith-based organizations, and reproductive health clinics across the country," said FBI Director Christopher Wray in a press release. "We will continue to work closely with our national, state, and local law enforcement partners to hold responsible anyone who uses extremist views to justify their criminal actions."
The agency said that they can investigate the incidents as "potential acts of domestic violent extremism, Freedom of Access to Clinic Entrances Act (FACE Act) violations, or violent crime matters, depending on the facts of each case."
Attacks the agency is seeking information on include eight arsons and attempted arsons and several cases of vandalism.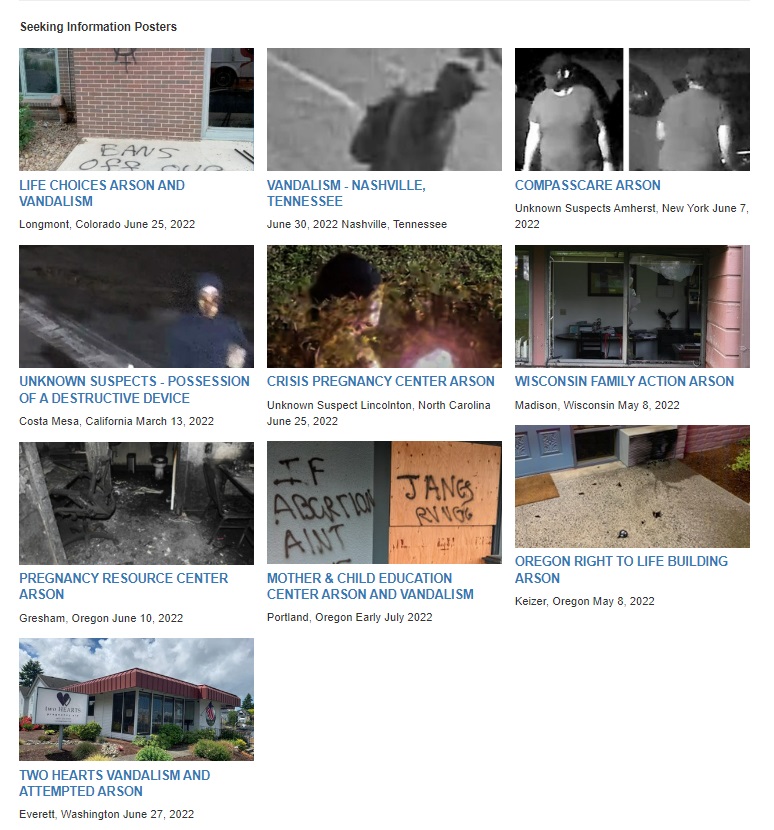 In a manifesto posted by Jane's Revenge on June 15, 2022, the group vowed to escalate their attacks in the wake of the Supreme Court's decision. They also took credit for arsons and vandalism at pregnancy centers in "Madison WI, Ft. Collins CO, Reisertown MA, Olympia WA, Des Moines IA, Lynwood WA, Washington DC, Ashville NC, Buffalo NY, Hollywood FL, Vancouver WA, Frederick MA, Denton TX, Gresham OR, Eugene OR, Portland OR, among others."
Pro-Abortion Activists Vandalize Pregnancy Centers in Oregon and Maryland That Encourage Women to Keep Their Babies
They stated, "we promised to take increasingly drastic measures against oppressive infrastructures. Rest assured that we will, and those measures may not come in the form of something so easily cleaned up as fire and graffiti."
"From here forward, any anti-choice group who closes their doors, and stops operating will no longer be a target. But until you do, it's open season, and we know where your operations are," the post stated. "Through attacking, we find joy, courage, and strip the veneer of impenetrability held by these violent institutions."
Catholic Vote is tracking the attacks on churches and pregnancy centers since the draft opinion leaked in early May.  As of January 6, 2023, the organization has tracked 78 attacks.
The FBI announced on June 17 that it is investigating the attacks as "potential acts of domestic violent extremism."
The agency is urging anyone with information on the attacks to call 1-800-CALL-FBI (1-800-225-5324), contact their local FBI office, or submit a tip online at tips.fbi.gov. They noted that those who report information may remain anonymous.