A family has filed a lawsuit against Meta, alleging that Instagram addiction is responsible for their teenage daughter developing an eating disorder and becoming suicidal.
The lawsuit, filed in the United States District Court for the Northern District of California, relies on information obtained from the Facebook Papers — a large amount of internal research documents, which leaked last year.
It is the first lawsuit against the company to rely on the information contained in the leak.
Facebook's own research had found that they knew Instagram was increasing mental health ad body image issues, particularly among teenage girls.
The lawsuit was filed on behalf of a girl named Alexis Spence, who created an Instagram at 11-years-old, allegedly unbeknownst to her parents. The platform does have a minimum age of 13-years-old.
NBC News reports that "the complaint alleges that Instagram's artificial intelligence engine almost immediately steered the then-fifth grader into an echo chamber of content glorifying anorexia and self-cutting, and systematically fostered her addiction to using the app. The lawsuit was filed by the Social Media Victims Law Center, a Seattle-based group that advocates for families of teens harmed online."
"Alexis was a confident and happy child, who loved reading, writing and helping people and animals. She dreamed about becoming a veterinarian. She was active in singing competitions, theater and enjoyed being in the spotlight and looked for opportunities to shine," the lawsuit says.
After learning how to hide the app behind a calculator icon, Spence hid the app from her parents. She fell into the pro-eating disorder crowd on Instagram and began expressing suicidal ideas in her postings.
At 12-years-old, she drew a picture of herself in a corner with abusive words on a screen and in a thought bubble above her head.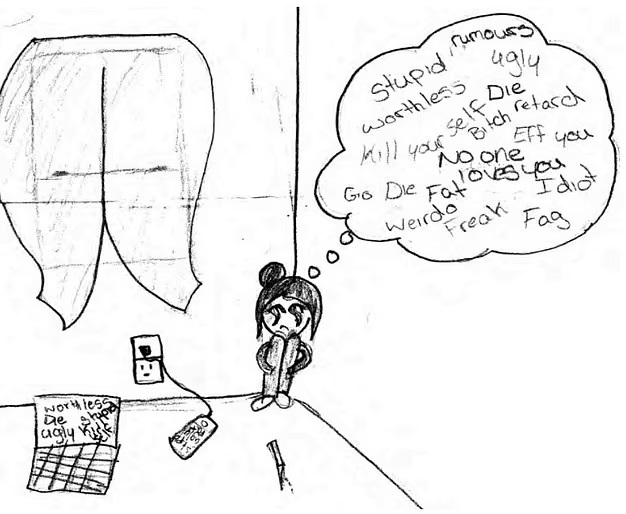 Spence is now 19-years-old and has been hospitalized for depression and anorexia. The lawsuit says that she "fights to stay in recovery every day" due to "the harmful content and features Instagram relentlessly promoted and provided to her in its effort to increase engagement."
Lawyers for the family argue that a document contained in the leak shows Meta identifying "tweens" as "herd animals" who "want to find communities where they can fit in." They claim that this shows that the company was targeting young girls, below their claimed age requirement.
"Alexis will suffer permanent mental and emotional damages because of what Instagram has done, the lawsuit argues. "Alexis' doctors have also advised that long-term physical damage is likely."
The family is being represented by Matthew P. Bergman, who founded the Social Media Victims Law Center.
"If you look at the extensive research that it [Meta] performed, they knew exactly what they were doing to kids, and they kept doing it," Bergman said, according to the NBC report. "I wish I could say that Alexis' case is aberrational. It's not. The only aberration is that she survived."
Bergman is also representing the family of an 11-year-old girl who committed suicide last year. They filed a lawsuit against Snapchat in January over the platform's role in her death.