Never-before-released documents obtained by White Coat Waste Project and provided to Timcast News reveal that the National Institute of Allergy and Infectious Diseases and the National Institutes of Health are funding painful and deadly experiments on discarded dogs at the University of Iowa.
The White Coat Waste Project is a watchdog organization that seeks to end taxpayer funding of wasteful animal testing.
Records obtained by WCW through Iowa Public Records Law show that from 2017 to 2019, a dozen foxhounds ranging from three to 10 years old were abandoned by their owners at the university for use in agonizing sand fly experiments conducted in collaboration with NIAID.
A photograph provided by the University of Iowa to WCW through the open records request shows a capsule filled with small black sandflies being strapped to the ear of one of the dogs to conduct Leishmania experiments.
It is unclear if the people abandoning the dogs with the researchers were aware that they would be used in these types of experiments and ultimately killed. It is also unclear if the animals were previously pets — or who donated them.
Making the matter seem more sinister, the University of Iowa's own research has found that there are already safe and effective treatments for dogs infected with leishmaniasis that are commercially available and prevent the disease from progressing.
In a January 2023 email to WCW, the University of Iowa's Director of Legislative Operations and Transparency Officer stated that some records related to the taxpayer-funded dog experiments have been destroyed.
A 2021 research paper published by the University of Iowa and NIAID experimenters describes the taxpayer-funded testing being conducted on a total of 16 dogs.
The study states that "Canine subjects in this study were donated" and "Dogs were sedated…Dogs were placed within an enclosed mesh chamber, and two feeding cups per dog were placed on the axillary region and inner pinna for 30 minutes."
The researchers confirm that they killed and dissected the donated dogs, writing, "Following xenodiagnosis and humane euthanasia per AVMA guidelines, a full necropsy was performed…."
The research paper states that it was funded by two grants from NIAID and the NIH's Fogarty International Center.
According to WCW's review of federal databases, the grants have received nearly $10 million in taxpayer dollars combined and are currently set to expire in June 2023.
Timcast News reached out to the University of Iowa with a series of questions about the tests and how the dogs were obtained. We asked if they were "donated" directly by their owners, if the donors knew that the animals would be subjected to painful tests, if they were made aware the dogs would be killed after the experiments were concluded, and how much taxpayer money is being used for these types of experiments.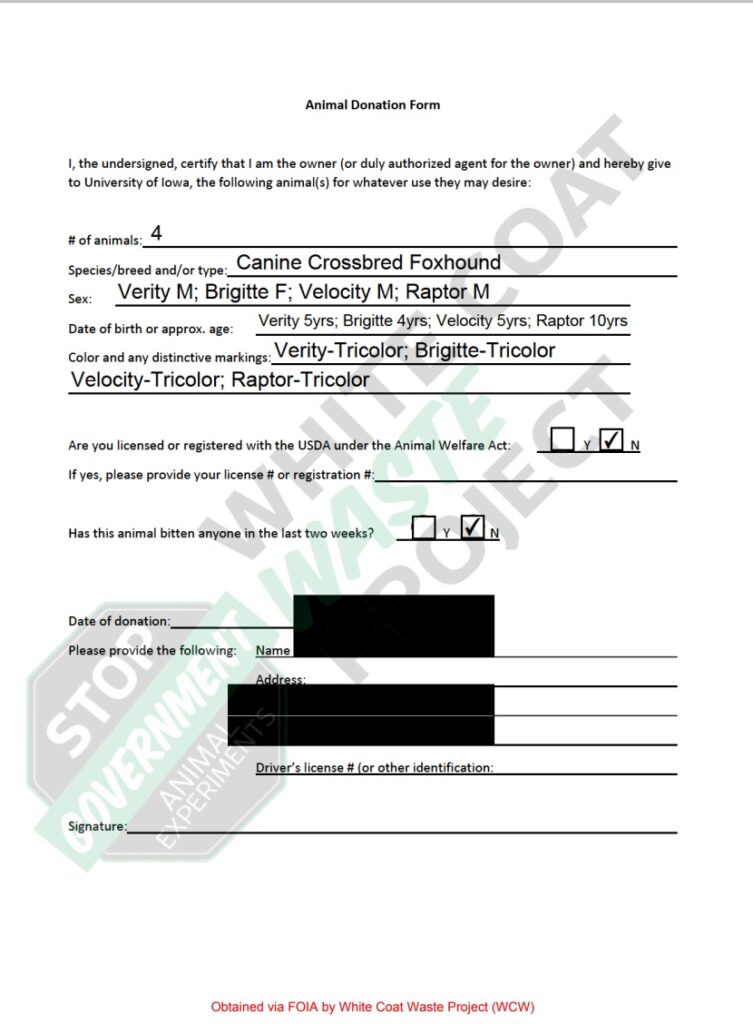 We also asked if any active painful experiments are currently being conducted on dogs at their campus.
Chris Brewer, the public relations officer for the university, claimed that "all dogs in the research study contracted Leishmania naturally, meaning they were exposed to infection in the course of their regular life – not as part of an experiment at the University of Iowa."
Brewer said that they were donated with the "informed consent from their caretakers," though he did not specify any information about who these caretakers are.
"The research was initiated by the people whose dogs were suffering from leishmaniasis," Brewer said. "Those caretakers worked hand-in-hand with UI researchers to establish what would happen during the study and what knowledge and treatments would be gained. All activities were approved by the University of Iowa Institutional Animal Care and Use Committee."
Brewer did not answer whether there are currently dogs at the university being used in painful experiments but said that "animal research entails several layers of veterinary and legal oversight to ensure proper care."
Timcast followed up by asking, again, what the source was for the dogs. We asked if they were previously household pets or were donated by a pound, rescue, or breeder — and if not, what business the so-called "caretakers" were in.
Brewer responded, "I do not have a lot more to comment beyond our initial statement. The caretaker is the person or persons that provides care to the dog. The individual names were redacted to protect their privacy, in accordance with our policies."
In 2021, White Coat Waste Project's #BeagleGate investigation uncovered how NIAID was funding experiments in Tunisia where beagles were drugged and had their heads locked in cages so infectious sandflies could bite their ears and faces.
Fauci's NIAID subsequently tried to deny that it funded the tests, but documents obtained by WCW through the Freedom of Information Act later proved that the agency had directly greenlit and paid for the cruel dog experiments.
WCW has also exposed how the NIH purchased puppies from disgraced breeder Envigo, and worked with Iowa Sen. Joni Ernst, a Republican, to successfully shut down Dr. Anthony Fauci's plans for five new dog experiments to test a recently developed allergy drug. 
The organization has also led an effective effort to end dog tests at the Department of Veterans Affairs and is now working with Florida Rep. Greg Steube, a Republican, on a bipartisan bill to defund all NIH dog tests.
WCW is the only group to have shut down a government dog lab in nearly two decades.
In a statement to Timcast News, Rep. Steube said, "The NIH wastes millions of taxpayer dollars annually to fund cruel and unnecessary experiments using dogs. Americans don't want to enable the heinous abuse inflicted on puppies and dogs in the name of research. My legislation will cut every dime of NIH's federal funding for these ruthless dog experiments."
WCW Senior Vice President Justin Goodman told Timcast News, "As White Coat Waste Project's #BeagleGate investigations have revealed, NIH-funded white coats in the U.S. and abroad are wasting millions of taxpayer dollars to inject puppies with cocaine, de-bark and poison dogs, infest beagles with flies and ticks, and force dogs to suffer bleeding disorders and septic shock."
"Now, we've made the disturbing discovery that discarded pet dogs are being tortured and killed with tax dollars in painful NIH-funded experiments," Goodman continued. "A supermajority of Americans across the political spectrum wants Congress to cut NIH's wasteful spending on dog experiments, which has already been done at other federal agencies like the VA following WCW's investigations and lobbying. We're proud to be working with Congressman Greg Steube to pass the bipartisan Protecting Dogs Subjected to Experiments Act to ensure taxpayers aren't forced to pay for painful, deadly, and wasteful NIH testing on puppies and dogs. The solution is clear: Stop the money. Stop the madness!"
Timcast News reached out to NIAID and NIH with a series of questions about the tests on Jan. 31. We had not received a response as of Feb. 15.