ESPN commentator Sarah Spain declared on air that the five Tampa Bay Rays players who declined to wear Pride patches for religious reasons are "bigots."
Spain made the comments about the "religious exemption BS" during Monday's episode of Around the Horn.
The commentator declared that this "is what tends to happen when frivolous class isn't affected by things. That religious exemption BS is used in sports and otherwise also allows for people to be denied health care, jobs, apartments, children, prescriptions, all sorts of rights."
"We have to stop tiptoeing around it because we're trying to protect people who are trying to be bigoted from asking for them to be exempt from it, when the very people that they are bigoted against are suffering the consequences you say trying to be bigoted," Spain continued.
The players who declined to wear the patches on their uniforms celebrating Pride month were Jason Adam, Jalen Beeks, Brooks Raley, Jeffrey Springs and Ryan Thompson.
Spain was asked by the host to clarify what she meant by "trying to be bigoted."
Yesterday @espn's Sarah Spain said on air that Tampa Bay Rays players who don't wear a pride flag are bigoted and using BS religion. Imagine turning on sports and getting this loony left wing insanity on your TV. Embarrassing. pic.twitter.com/Z0B9KzSS1k

— Clay Travis (@ClayTravis) June 8, 2022
"They're trying to use religious exemptions to affect the opportunities, services, available resources for people who are LGBTQ+," Spain replied.
The host questioned if not wearing a patch was doing all that.
"In the case of sport, no. In the case of sport though they are double talking if they're saying you're welcome while also saying that we don't encourage or we disagree with it especially when there are devout people of every single religion that also welcome and are open to people who are born gay," Spain said.
David Dennis Jr. used his time on the show to assert that people should oppose Florida's Parental Rights in Education Law, nicknamed the "don't say gay" bill by detractors — despite the bill never mentioning the word gay.
"If you want to have something that really means anything, while you're in there in Florida, speak out about the 'Don't Say Gay' bill or do something that really says that you stand for folks that are putting the flag out there and get distracted by these conversations about who's wearing a patch and who's not," he said.
Today, we wear our #Pride on our sleeves pic.twitter.com/bcOLJNhx6Y

— Tampa Bay Rays (@RaysBaseball) June 4, 2022
Clinton Yates also offered his opinion, saying that "I point to the Rays from a leadership standpoint on this. You can't have your players doing this. It makes you look like you're progressing and you're completely backwards, and it's 2022."
"Just imagine if four or five guys decided they were going to say this in terms of, I don't know, military things on their jerseys. People would react completely differently and it's not all that different. Rays get your house in order. I'm not saying that you have to suspend these guys, but…" Yates continued.
After the show aired, Spain took to Twitter to assert that "your faith is not an excuse for being an asshole. It's 2022. Evolve or die."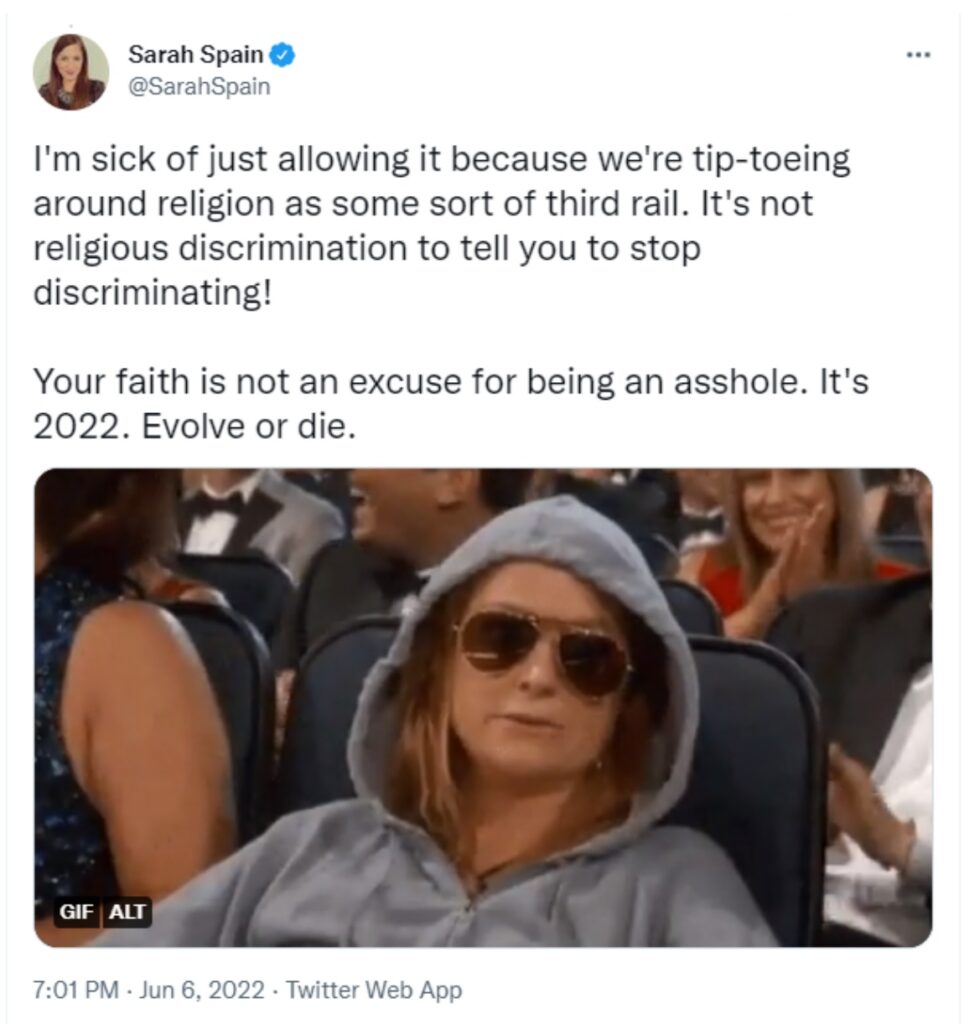 Speaking to reporters about the decision not to wear the patch, Adam said that "a lot of it comes down to faith, to like a faith-based decision."
"So it's a hard decision. Because ultimately we all said what we want is them to know that all are welcome and loved here," Adam added. "But when we put it on our bodies, I think a lot of guys decided that it's just a lifestyle that maybe not that they look down on anybody or think differently it's just that maybe we don't want to encourage it if we believe in Jesus, who's encouraged us to live a lifestyle that would abstain from that behavior, just like Jesus encourages me as a heterosexual male to abstain from sex outside of the confines of marriage. It's no different."
"It's not judgmental. It's not looking down," Adam told The Tampa Bay Times. "It's just what we believe the lifestyle He's encouraged us to live, for our good, not to withhold. But again, we love these men and women, we care about them, and we want them to feel safe and welcome here."