Earlier this week, ABC News released what some have called a "shock poll" showing former President Donald Trump with a 7-point lead over President Joe Biden in a hypothetical 2024 general election matchup.
According to the poll results, Trump held a 45-38 advantage over Biden.
However, even with the ABC poll factored into projections, an election forecaster who correctly called the 2020 and 2022 races is showing that if the 2024 election were held today, Trump would lose to Biden based on state-by-state polls reflective of Electoral College votes.
Race to the White House creates its forecasts by using numerous polls and weighting them to correct for factors like sample size, political bias and a poll's past accuracy.
In the U.S. system, presidents aren't selected via popular vote. A presidential candidate must secure 270 electoral votes to win.
In a hypothetical matchup between Trump and Biden, Race to the White House shows that right now Biden would win 308 electoral votes, while Trump would win just 218, easily leaving control of the White House with Biden.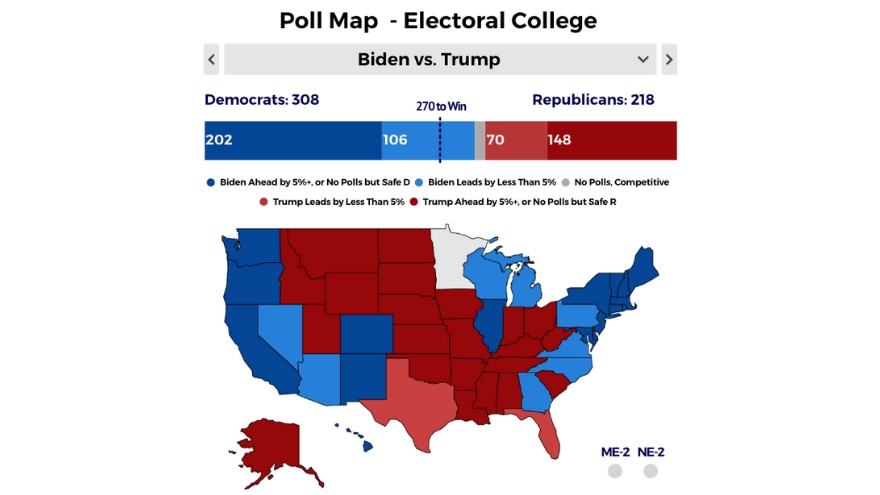 Though he has yet to formally announce a run, Florida Gov. Ron DeSantis is projected to defeat Biden with 297 electoral votes compared to the president's 204, according to the data at racetothewh.com.
Asked what he thought about how things may change between now and Election Day, Logan Phillips, founder of Race to the White House, told Timcast in an interview that there's no way to know exactly what will happen this far out.
"A lot of presidential politics is about reacting to changes in the country and abroad. But as it is right now, I think there's two things," he said. "It's gonna be the economy, which is probably going to favor Trump and the other side's gonna be freedom, which is going to favor Democrats. Now, I know that's new, but Democrats have successfully taken that issue from Republicans."
In Biden's first official campaign video, he laid out his overall election strategy, highlighting the riot at the U.S. Capitol on Jan. 6, 2021 and the issue of Roe v. Wade being overturned in an attempt to frame himself and his party as the defenders of individual freedom and liberty.
"Politics is always about people reacting sometimes to the excesses of the other party or successes that they have," Phillips said.
He added:
And I think a lot of conservatives are uncomfortable with cultural changes that have happened in America, and they're taking an approach to politics that involves using the state as a means to push things in a different direction. And that is making people uncomfortable.

And I think conservatives often feel justified because they see non-state actors that have been able to influence things like maybe colleges or media, but voters view the state as different. And so that's making them uncomfortable.

And I feel like that on abortion, on gay rights and some other stuff, has created some tension with those white college educated voters, and maybe to a degree, Latinos as well, and especially, especially, especially young voters. And so that really is the risk for Republicans.
In the 2022 midterms, Race to the White House correctly called each Senate race with 97.1 percent accuracy, outperforming all other forecasting firms, including FiveThirtyEight. Phillips also correctly called House races with 96.3 percent accuracy (being the second most accurate behind FiveThirtyEight) and called the gubernatorial races with 94.4 percent accuracy, tying FiveThirtyEight and Split Ticket.